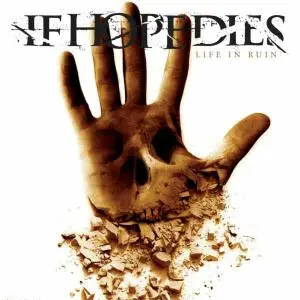 If Hope Dies - Life In Ruin (2006)
MP3 | 271kbps avg | 74 Mb | Hardcore | 0h 36min total | Label: Ironclad
Track List:
01. Burned Out 3:01
02. Anthem For The Unemployable 3:42
03. Dead Reckoning 3:41
04. Time Is Not On Our Side 3:01
05. Fear Will Keep Them In Line 3:00
06. Water Into Wine Cooler 3:07
07. The Ultimate Nullifier 3:19
08. Marked For Death 2:58
09. Some Skynyrd 2:57
10. Nuked From Orbit 3:51
11. Life In Ruin 3:59
Release Notes:
After forming in the summer of 1998, If Hope Dies quickly came into their own as young dedicated musicians. Hailing from Auburn, New York (also hometown to Heavy Metal Gods Manowar) If Hope Dies showed upstate New York that you can mix metal with hardcore.
In the years since their formation, IHD has progressed into a leader in the genre of metal based hardcore. A 2002 release on Diehard Records entitled "Siege Equipment for Spiritual Decline" has sold over 1200 copies to date with only regional touring. The release solidified the band as a metalcore force to be dealt with.
IHD also takes pride in the energetic and heartfelt approach to their live performance. Fans of metal and hardcore will know these guys love what they do when they see them on stage bringing the rock. If Hope Dies has brought their music and show to the big stage numerous times as they have performed with bands such as In Flames, Lamb Of God, Soilwork and many more. They also earned their way onto Syracuse NY's Hellfest 2001, 2002 and 2003 with some of the industries finest.
"The Ground is Rushing Up Top Meet Us" is the best and latest release for If Hope Dies and will blow away any fan of traditional Heavy Metal, European Metal, American Metal, Thrash Metal and Metal based Hardcore. With a new label, Ironclad recordings, and a new commitment to tour full time, IHD is stronger than ever and will be coming to your hometown soon to show you who the "Kings of modern day Metal" really are.
If Hope Dies upcoming cd LIFE IN RUIN, which hits streets March 7th in North America, will see an April 10th release date in Europe via Ironclad/Metal Blade.
This will be the first officical European release for If Hope Dies and it is sure to be followed by a tour this spring or summer.
pass:/*-+
DOWNLOAD