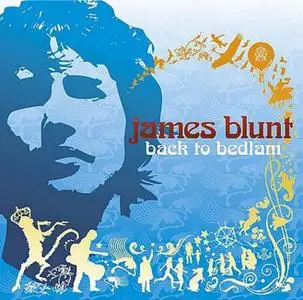 James Blunt - Back To Bedlam (2005)
2 Albums | 4 Vids | MP3 192 Kbps | MPEG | Covers included | Totaly 275 Mb
maby allready posted before but this is the whole complete work together
Blunt's hugely accomplished debut album, "Back To Bedlam", produced by Tom Rothrock [Beck, Elliot Smith and Badly Drawn Boy] was released last Autumn to widespread critical acclaim and features Radio-2, A-listed single, "Wiseman" and new single, "You're Beautiful". It is an album full of stories, vignettes and snatched moments, told in James's passionate and unique voice. Initially signed to Custard Records by the hugely successful producer/songwriter Linda Perry [Christina Aguilera, Pink, Courtney Love], the album was recorded in LA and is heavily influenced by the classic American 1970's singer/songwriter tradition.
Tracks:
01 High
02 You're Beautiful
03 Wisemen
04 Goodbye My Lover
05 Tears And Rain
06 Out Of My Mind
07 So Long, Jimmy
08 Billy
09 Cry
10 No Bravery
JAMES BLUNT - CHASING TIME: THE BEDLAM SESSIONS [2006]
Encoded 192Kbps [Lame] mp3. Covers included.
–––––––––––––––––––––––––
The former UK Military Captain's debut album "Back to Bedlam" rose to prominence by word of mouth, fuelled by amusing and touching live performances. "You're Beautiful", a song about a lifetime lived in a moment, became the soundtrack of a turbulent year, despite taking several weeks to reach Number One. The album was 2005's Biggest Seller in the UK. Everything that makes Blunt such a special talent can be heard on these extraordinary live performances.
Tracks:
01 Wisemen [Live]
02 High [Live]
03 Cry [Live]
04 Goodbye My Lover [Live]
05 So Long Jimmy [Live]
06 Sugar Coated [Live]
07 You're Beautiful [Live]
08 Billy [Live]
09 Fall At Your Feet [Live]
10 Tears And Rain [Live]
11 No Bravery [Live]
12 Where Is My Mind [Live]
JAMES BLUNT - THE VIDEOS [mpeg SkidVid]
––––––––––––––––––––––
TV rips, edited, logos removed and encoded 352 x 288 mpeg.
James Blunt - Goodbye My Lover [2005]
James Blunt - High [2005]
James Blunt - Wiseman [2005]
James Blunt - You're Beautiful [2005]
––––––––––––––––––––––––––––––-
all links here
================
no passw. i did split everything so you can take what you want.
BACK TO BEDLAM [2005]
––––––––––––
http://rapidshare.de/files/19763328/JBBTB.rar.html
CHASING TIME: THE BEDLAM SESSIONS [2006]
––––––––––––––––––––––-
http://rapidshare.de/files/19764587/JBCT.rar.html
vids
=====
Goodbye My Lover
––––––––––-
http://rapidshare.de/files/19765127/JBVIDGML.rar.html
High
––––
http://rapidshare.de/files/19765810/JBVIDH.rar.html
Wiseman
––––––
http://rapidshare.de/files/19766426/JBVIDW.rar.html
You're Beautiful
––––––––-
http://rapidshare.de/files/19766929/JBVIDYB.rar.html
enjoy
grtz Dirk