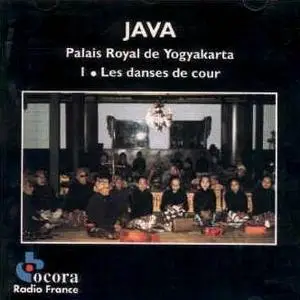 Java - Palais Royal de Yogyakarta, Vol. 1, Les Danses de Cour
Genre: Gamelan/Java | MP3, 192 Kbps | Label: ocora | 99,87 Mb Mb
C560067 Ocora, 1970-73
When music lovers talk of Gamelan music, they generally refer to Balinese Gamelan music, some important types of which came from Java to Bali around 14th or 15th century after Islam had taken root in Java. In the Western world, Balinese Gamelan music is more popular and more known than Javanese Gamelan. Although Balinese music has obvious similarities with Javanese, it as well evolved quite differently from it.
The word "gamelan" is a Javanese word meaning "orchestra," referring to the instruments that make up the ensemble. Although we find similar types of music and ensemble all around Southeast Asia, as in Thailand and Cambodia, for example, gamelan music as is known today is particular to four nearby islands: Java, Madura, Bali, and Lombok. There are a large number of different types of gamelan ensembles, as much in terms of instruments used as in sizes, as much in styles of music performed as for occasions when they are performed, as well for whom they perform. These ensembles can range from few portable instruments, played by three or four musicians, to a large ensemble with as many as twenty-five musicians and between ten to fifteen singers. Large gamelan are own by wealthy patrons, shadow play puppeteers or particular institution such as banks, schools or government offices. For their part, musicians own smaller and more portable ensembles. Javanese Gamelan music has been performed for and enjoyed by people of all walks of life, from beggars to kings, although the sizes and types of ensembles, as well as the styles of music differs depending from which social class the audience is and on the occasions. (Bruno Deschênes, details:
http://pages.infinit.net/musis/matsu_take_eng/3_AMG_Java_Bali.html
)
A series devoted to the Yogyakarta style is available on the Ocora label. These are older recordings, and feature musicians who grew up in the court atmosphere. Many of the newer recordings (as per above) use conservatory-trained musicians because of the changing economics of the kratons.
This is a very nice recording of Yogyakarta gamelan in the 'loud' style (mainly bronze). This is not to say the pieces are loud: they form exactly the kind of rippling, smoothly flowing sound for which the Javanese gamelan is famous. The complexity is just somewhat less daunting, consisting of the skeleton melodic line carried by the sarons. The bonang, bonang panerus & peking form patterns on top of it, the piece is supported by the gongs & kenong and led by the kendang.
Tracklist:
1. Pembuka
2. Gending Gangsaran
3. Serimpi Lobong
Rapidshare:
Part 01
pw= music_inside
ocora: Ouganda - Au Sources du Nil
ocora: Cante Flamenco - Agujetas en Paris
ocora: Asie centrale - Traditions classiques
ocora: Cap Vert - Un Archipel de Musiques
ocora: Burkina Faso - Pays Lobi, Xylophone de Funérailles
ocora: Lituanie - Le Pays des Chansons
ocora: L. Subramaniam - Le Violon de l'Inde du Sud
ocora: Gopal Krishan - Inde du Nord, L'Art de la Vichitra Vîna
ocora: Nusrat Fateh Ali Khan - En Concert à Paris (Vol.1-5)