Christmas Card is a JazznSamba sampler of exciting, original arrangements and interpretations of five favourite Christmas songs as well as a beautiful new ballad written especially for this CD.
Following on the heels of their critically-acclaimed debut release POSTCARD, the aptly-named Christmas Card contains six seasonal gems, sparkling with originality while remaining true to the tradition of these wonderful classic Christmas songs.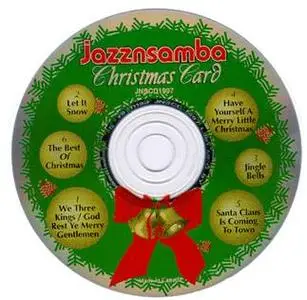 Christmas Card contains a version of "Jingle Bells" that breathes new life and energy into this old chestnut, invoking nearly-forgotten images of a flying sleigh-ride on a crisp, starry night.
Their reading of "Let It Snow", with Kathie Claire's intimate vocals and Mike Murley's warm tenor sax sets the tone for romance by the fire.
Their arrangement of "We Three Kings" (with unique vocal harmonies) is brilliant, a fitting tribute to the mystery and wonder of this timeless carol and the miracle of Christmas.
A bossa-nova style interpretation of "Have Yourself a Merry Little Christmas" brings out the wistful sweetness of this all-time favourite song.
Romping through an up-tempo, jazzy treatment of "Santa Claus Is Coming To Town" highlights the band at its swinging best, with all the joy of kids having fun at Christmas.
And finally, a brand-new ballad destined to become a Christmas Classic, "The Best of Christmas" (music by Skip Beckwith, lyrics by JazznSamba) tells of the happiness found in being home with friends and family for the joyous season, and delivers the essence of the message of this CD: a wish for Christmas cheer for one and all this year.
* * *
"…enterprising versions of traditional and sacred tunes that pass the acid test: you might still want to play them after Boxing Day…a pleasing half-hour of just six songs from sweet-voiced Kathie Claire Shaw…"
-Geoff Chapman, The Toronto Star
"Donat's nylon-string guitar work meshes magnificently with Skip Beckwith's expert bass figures…What distinguishes jazznsamba is the joy of playing that informs every track."
-Ron Foley MacDonald, Halifax Daily News
* *
Christmas Card was recorded October 1997 at
"The Cape House on the Hill" near Lunenburg, Nova Scotia, Canada
Produced by Bill Garrett and Skip Beckwith
Recorded and mixed by David W. Hillier, Bill Garrett and Skip Beckwith
Special guest artists: Mike Murley, saxophones; Anil Sharma, drums
All arrangements by JazznSamba
Design and Prepress Production: Artplus Advertising Ltd.
Promotional photography by Steve Shewchuk
National Promotion by Jane Harbury Publicity, Toronto, Canada
rapidshare