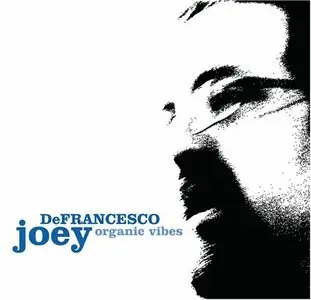 Joey DeFrancesco & Bobby Hutcherson - Organic Vibes (2006)
Label: Concord Jazz | Mp3 Vbr ~ 272kbps average | Time: 1h 4m 33s | Size: 125 MB
Genre: Jazz/Post Bop - Recording Date: Aug 24, 2005-Aug 26, 2005
Having reviewed some of Hammond organist Joey DeFrancesco's early albums on Columbia, then caught up with him again when he teamed up with the high-flying guitar acrobat Danny Gatton on Relentless, and then lost track of him, the word that comes to mind upon hearing this effort for Concord is "adult." DeFrancesco's earlier work was that of a young and precocious kid with a burning love of his instrument and something to prove. Fifteen years into what has become a celebrated career, he's settled in and is demonstrating the kind of taste and maturity that separates the flashy young hotshots from the serious musicians, the ones who will leave a legacy. On Organic Vibes, DeFrancesco goes beyond the traditional organ trio format that he has generally preferred up until now and is joined by a group that includes vibraphonist Bobby Hutcherson and tenor sax player George Coleman, and his desire to give them the space they need leads him to move away somewhat from center stage; as a result, his solos are tighter, more focused, and less frenetic than they have sometimes been. There's also more of a focus on slower numbers than has often been the case on past DeFrancesco projects, an approach that bears sweet fruit on the group's tender rendition of "I Thought About You" and on the sauntering and funky "Down the Hatch." DeFrancesco's own "Colleen" is lovely bossa nova that ends the album on an almost contemplative note. Very highly recommended. Review AMG.
1 The Tackle DeFrancesco 8:09
2 Little B's Poem Hutcherson 6:29
3 I Thought About You Mercer, VanHeusen 9:26
4 Somewhere in the Night Reid, Reid 8:33
5 Down the Hatch DeFrancesco 6:51
6 Speak Low Nash, Nash, Weill 7:52
7 Jeneane's Dream Landham 4:21
8 My Foolish Heart Washington, Young 6:06
9 Colleen DeFrancesco 6:43
PERSONAL:
Joey DeFrancesco (Hammond b-3 organ)
Jake Langley (guitar)
Ron Blake (saxophone)
George Coleman (tenor saxophone)
Bobby Hutcherson (vibraphone)
Byron Landham (drums)
LinkRS
Enjoy it !