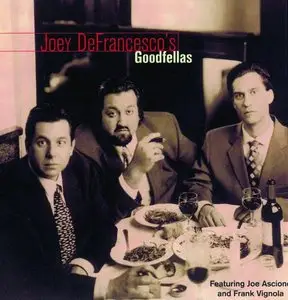 Joey Defrancescos - Joey Defrancesco's Goodfellas
Label: Concord Jazz | MP3 cbr 320kbps | Time: 54:18 | Size: 126 MB
Genre: Jazz, Hard Bop
Joey DeFrancesco is a Philadelphia organist who has previously worked in ensembles led by Miles Davis and guitarist John McLaughlin. On Goodfellas Francesco and his band mates play wonderful songs derived from their Italian upbringing. Performing instrumental versions of tunes associated with Frank Sinatra, Vic Damone, and even classic Mob flicks like The Godfather, DeFrancesco shows a bit of humor, excellent musical taste, and an innate capacity to swing. Accompanied by gifted guitarist Frank Vignola and drummer Joe Ascione, DeFrancesco grooves outrageously through tunes like "Fly Me to the Moon," "Young at Heart," and even "Volare." With DeFrancesco wailing on the Hammond B3, Vignola churning out hot licks on his electric guitar, and Ascione kicking it underneath, this collection is chock full of authentically spicy jazz. –Mitch Myers
There's something about the Hammond B-3 organ. The instrument has created its own genre of earthy, blues-fueled jazz. As with punk rock or flamenco, just playing this music implies an emotional commitment. On The Champ, Joey DeFrancesco plays a set of tunes associated with Jimmy Smith; on Goodfellas, he interprets Italian American favorites associated with Frank Sinatra and Louis Prima.
An organist achieves a personal sound by using the stops to shape the air-tunnel through which the machine pumps air. On The Champ, DeFrancesco milks this to the max. On "Mack the Knife," some of the vocalized phrases he plays ("scat-scat-phooey!") must be heard to be believed. On "Lover Man," he expertly uses the volume control to make the melody sound "sung," then pushes the instrument so hard it chokes, creating a sobbing effect. On "OGD," he uses quick changes in the middle register to make the Hammond "boil"; fleeting stabs at the high notes sound like expressions of an inner turmoil. Guitarist Randy Johnson adheres to the Wes Montgomery lineage, phrasing his lines like he's playing to an unvoiced scat. Drummer Billy Hart has a ball, testifying to the camp summons of Horace Silver's "Preacher" and engaging DeFrancesco in a hilarious battle on "Walk on the Wild Side."
For Goodfellas' cover shot, DeFrancesco and his accompanists, Frank Vignola (guitar) and Joe Ascione (drums), wear Mafia suits, and the booklet is replete with jokes about spaghetti, meatballs, and Chianti. Dreamy tunes like "Volaré" and "Fly Me to the Moon" give less scope for organ explosions than the bluesy menu of The Champ, but it's all good kitschy fun, delivered with impeccable musicianship. Skeptics decry the limitations of the Hammond genre, but when it's played with this much intimacy and polish, you're inclined to reply, "Limitations? Fuhgetaboutit!"
–- Ben Watson, JAZZIZ Magazine Copyright © 2000, Milor Entertainment, Inc.
Personnel
Joey Defrancesco, Hammond B3
Frank Vignola, Guitarist
Joe Ascione, Drummer
1. Speak Softly Love
2. Volare
3. Fly Me to the Moon
4. All the Way
5. Whack 'Em
6. Malafemmena
7. Young at Heart
8. O Solo Mio
9. Evidence
10. Goodfellas
11. Ya See What I'm Sayin?
12. Whack 'Em (Reprise) / Tarentella (Reprise)
LinkRS
Enjoy it !