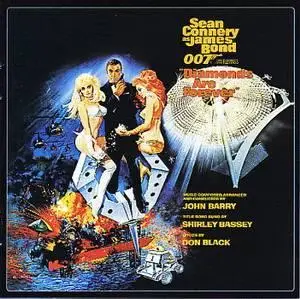 John Barry - Diamonds Are Forever OST
MP3 160 Kbps | 1971/2003 | Label: Capitol | 75:50 min | 88 MB
Genre: Soundtrack
For the fans of this classic James Bond soundtrack, thirty years of waiting is finally over. The fantastic but pitifully incomplete original soundtrack album from Diamonds Are Forever has finally been replaced by this complete CD. Every note of music in the film, as well as some that is not, is carried with astonishingly rejuvenated sound. It is crisp, clear, and packs real punch. The result is indefatigably excitable. The song, written with Don Black for the inimitable Shirley Bassey, is one of the greatest. Barry's themes are vivid, his action themes white hot, his lounge music sublime, his source music imaginative. Quite apart from those Barry scores which see the composer develop perhaps two or three themes, Diamonds Are Forever contains a myriad of content and styles.
Tracklist:
1. Diamonds Are Forever (Main Title) - Shirley Bassey
2. Bond Meets Bambi and Thumper
3. Moon Buggy Ride
4. Circus, Circus
5. Death at the Whyte House
6. Diamonds Are Forever (Source Instrumental)
7. Diamonds Are Forever (Bond and Tiffany)
8. Bond Smells A Rat
9. Tiffany Case
10. 007 and Counting
11. Q's Trick
12. To Hell With Blofeld
13. Gunbarrel and Manhunt
14. Mr. Wint and Mr. Kidd/Bond to Holland
15. Peter Franks
16. Airport Source/On the Road
17. Slumber, Inc.
18. The Whyte House
19. Plenty, Then Tiffany
20. Following the Diamonds
21. Additional and Alternate Cues
Diamonds Are Forever OST on Rapidshare
password:
Amsterdam