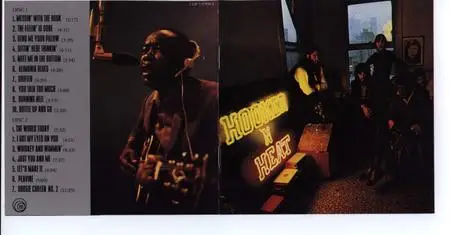 John Lee Hooker & Canned Heat - Hooker 'n Heat [Box Set]
Year: 1971 | MP3 | 256 kbit/s | 161 MB (Compressed)
Born near Clarksdale, Mississippi in 1917 to a sharecropper family, John Lee Hooker was one of the last links to the blues of the deep South. He moved to Detroit in the early 1940's and by 1948 had scored his first number-one jukebox hit and million-seller, "Boogie Chillun." Other hits soon followed, "I'm In The Mood," "Crawling Kingsnake," and "Boom Boom" among the biggest. During the 1950s and '60s, Vee Jay Records released a remarkable string of more than 100 of John Lee's songs.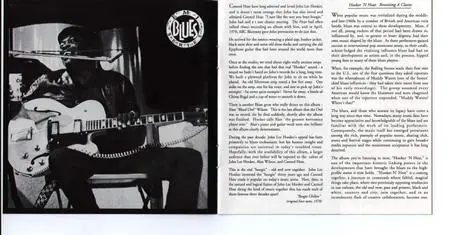 Amazon.com
This 1971 collaboration between primal one-part-Delta/one-part-Detroit singer-guitarist John Lee Hooker and Southern California blues revivalists Canned Heat works in large part because all parties involved are a little off. Hooker, the most unsystematic of the major bluesmen of his generation, isn't a good fit for disciplined players; rather, he requires sidemen who play by feel. In harp player-guitarist Alan Wilson, the Crawling King Snake found a particularly sympathetic foil; sadly, Wilson died shortly after these sessions were completed. Roughly divided into spare, gritty Delta exercises and full-on boogie stomps featuring the full band, Hooker 'n' Heat is surely one of Canned Heat's crowning moments, which isn't saying that much. But that it stands as a milestone in Hooker's oeuvre is quite a statement indeed! –Steven Stolder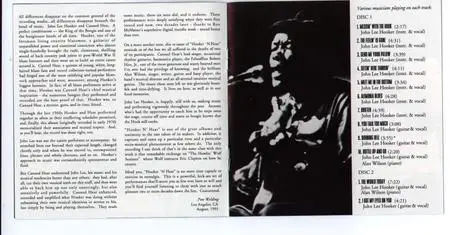 Probably no other white blues band took John Lee Hooker's boogie rhythms and made a career out of it as much as Canned Heat. It was certainly inevitable that the two forces would unite for a joint recording project and this double CD package (recorded in 1970 and originally a double album) is the delightful result. Canned Heat certainly knew what they were going after, as Hooker brandishes a mean guitar tone that hadn't surfaced since his early Detroit recordings. Surprisingly, Canned Heat hangs back a bit as over half the material are riveting solo recordings, with the full band only coming in as support on the second half. Compare this with most of his 70s recordings for BluesWay (now MCA) and you'll quickly realize that these sides contain some of his most cohesive work with a band, ever. — Cub Koda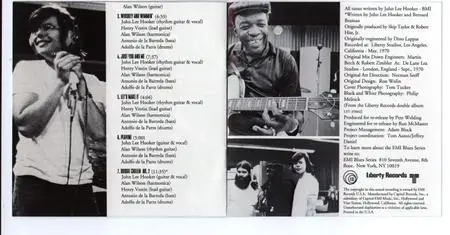 Tracklists:CD 1
Hooker 'n Heat - 01 - Messin' With The Hook
Hooker 'n Heat - 02 - The Feelin' Is Gone
Hooker 'n Heat - 03 - Send Me Your Pillow
Hooker 'n Heat - 04 - Sittin' Here Thinkin'
Hooker 'n Heat - 05 - Meet Me In The Bottom
Hooker 'n Heat - 06 - Alimonia Blues
Hooker 'n Heat - 07 - Drifter
Hooker 'n Heat - 08 - You Talk Too Much
Hooker 'n Heat - 09 - Burning Hell
Hooker 'n Heat - 10 - Bottle Up And Go
CD 2
Hooker 'n Heat - 01 - The World Today
Hooker 'n Heat - 02 - I Got My Eyes On You
Hooker 'n Heat - 03 - Whiskey And Wimmen'
Hooker 'n Heat - 04 - Just You And Me
Hooker 'n Heat - 05 - Let's Make It
Hooker 'n Heat - 06 - Peavine
Hooker 'n Heat - 07 - Boogie Chillen No. 2
Download (2*60 MB + 1*40.9 MB):
http://rapidsafe.net/rc-YGZkRjY2QTM/jlh_ch.ace
http://rapidsafe.net/rc-gTOjVjY2QTM/jlh_ch.c00
http://rapidsafe.net/rc-EWNxEmY2QTM/jlh_ch.c01