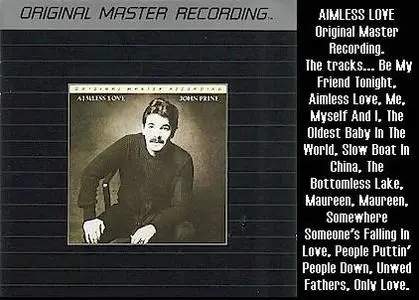 John Prine - Aimless Love (1984) Original Master Recording
Flac lossless / 175 Mb / 2 Zip-files / covers included
John Prine
An acclaimed singer/songwriter whose literate work flirted with everything from acoustic folk to rockabilly to straight-ahead country, John Prine was born October 10, 1946 in Maywood, Illinois. Raised by parents firmly rooted in their rural Kentucky background, at age 14 Prine began learning to play the guitar from his older brother while taking inspiration from his grandfather, who had played with Merle Travis. After a two-year tenure in the U.S. Army, Prine became a fixture on the Chicago folk music scene in the late 1960s, befriending another young performer named Steve Goodman.
Prine's compositions caught the ear of Kris Kristofferson, who was instrumental in helping him win a recording contract. In 1971, he went to Memphis to record his eponymously-titled debut album; though not a commercial success, songs like "Sam Stone," the harsh tale of a drug-addled Vietnam veteran, won critical approval. Neither 1972's Diamonds in the Rough nor 1973's Sweet Revenge fared any better on the charts, but Prine's work won great renown among his fellow performers; the Everly Brothers covered his song "Paradise," while both Bette Midler and Joan Baez offered renditions of "Hello in There."
For 1975's Common Sense, Prine turned to producer Steve Cropper, the highly-influential house guitarist for the Stax label; while the album's sound shocked the folk community with its reliance on husky vocals and booming drums, it served notice that Prine was not an artist whose work could be pigeonholed, and was his only LP to reach the U.S. Top 100. Steve Goodman took over the reins for 1978's folky Bruised Orange, but on 1979's Pink Cadillac, Prine took another left turn, and recorded an electric rockabilly workout produced at Sun Studios by the label's legendary founder Sam Phillips and his son Knox.
Following 1980's Storm Windows, Prine was dropped by Asylum Records, and he responded by forming his own label, Oh Boy Records, with the help of longtime manager Al Bunetta. The label's first release was 1984's Aimless Love, and under his own imprint Prine's music thrived, as 1986's country-flavored German Afternoons earned a Grammy nomination in the Contemporary Folk category. After 1988's John Prine Live, he released 1991's Grammy-winning The Missing Years; co-produced by Howie Epstein of Tom Petty's Heartbreakers, the album featured guest appearances from Bruce Springsteen, Bonnie Raitt and Tom Petty, and proved to be Prine's biggest commercial success to date, selling nearly 250,000 copies. After making his film debut in 1992's John Mellencamp-directed Falling From Grace, Prine returned in 1995 with Lost Dogs and Mixed Blessings, also produced by Epstein, which earned him another Grammy nomination.
In 1998, while Prine was working on an album of male/female country duets, he was diagnosed with squamous cell carcinoma, with the cancer forming on the right side of his neck. Prine underwent surgery and radiation treatment for the cancer, and in 1999 was well enough to complete the album, which was released as In Spite Of Ourselves and featured contributions from Emmylou Harris, Lucinda Williams, Trisha Yearwood, Patty Loveless, Connie Smith and more. In 2000, Prine re-recorded fifteen of his best-known songs (partly to give his voice a workout following his treatment, but primarily so Oh Boy would own recordings of his earlier hits) for an album called Souvenirs, originally issued in Germany but later released in the United States. In 2005, Prine released Fair and Square, a collection of new songs, and followed its release with a concert tour.
Aimless Love
John Prine moved to his own independent label, Oh Boy, after stints at Atlantic and Asylum (later, he acquired his Asylum albums and reissued them on Oh Boy). On this label debut, he is under no commercial pressures, but that seems to make him more low-key, less striking. "The Oldest Baby in the World," "Somewhere Someone's Falling in Love," and "Unwed Fathers" are good examples of his new sweetness, which is as winning as, if less impressive than, his witty older songs. (AMG)
http://rapidshare.de/files/265...ne_-_Aimless_Love__MFSL__1.zip
http://rapidshare.de/files/265...ne_-_Aimless_Love__MFSL__2.zip