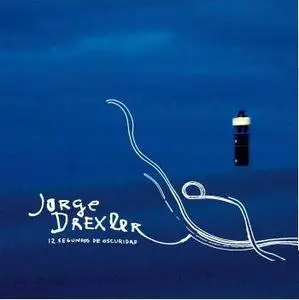 Jorge Drexler - 12 Segundos de Oscuridad (2006)
latin pop-folk
MP3@192 kbps | 14 tracks | Warner | 66 Mb.
For many gringos, Uruguayan singer/songwriter Jorge Drexler's arrival was announced by his quietly strummed performance of "Al Otro Lado Del Rio" during the closing credits of The Motorcycle Diaries. The song wound up winning an Oscar for Best Original Song, but this kind of acclaim is nothing new for talented Drexler: he's already a major pop star in Latin America. Using South American roots styles for subtle flavor, Drexler's music combines a sophisticated blend of modern production, acoustic guitar-based songs and a myriad of different slightly electronic touches. Longtime fans will consider 12 Segundos de Oscuridad, his eigth album overall, up to his high standards, but this is a real eye opener for those who are just coming to the table. –
Tad Hendrickson
RAPIDSHARE DOWNLOAD LINK
. . . . . . . . . . . . . . . . . . . . . . . . . . . . . . . . . . . . . . . . . . . . . . . . . . . . . . . . . . . . . . . . . . . . . . . . . . . . . . . . . . . . . . . . . .

12 Segundos De Oscuridad, Un Álbum Lúcido
Discos, canciones se graban a diario, a porrillo. Buenos, bonitos o baratos. El arte es otro cantar, más allá de que el artista se enfrente, se rete o se castigue a sí mismo. 12 SEGUNDOS DE OSCURIDAD es arte. Un destello de arte literario y musical. Una obra involuntaria. ¿Cómo si no? Pues no nacemos, nos nacen tras nueve meses de oscuridad, nueve meses de eternidad. Nos dan a luz. Jorge Drexler ha parido trece canciones sin anestesia epidural, sin adormecer la duramadre. Canciones entre el hola y el adiós, entre el vértigo y la pérdida. Canciones de introversión / extraversión. Versos cardíacos, rimas esdrújulas, emociones agudas, dudas llanas.
Hoy la vida va muy rápida. No hay tiempo para escribir un verso. No nos da tiempo a sentir. Ni a consentir, a compartir los miedos y dolores propios y de nuestros semejantes.
12 SEGUNDOS DE OSCURIDAD es un diario íntimo entrecortado de cabos sueltos y emociones distantes, en días y lugares distintos durante los dos últimos años. Jorge vino a España, viento a favor, con la figurita de San Caetano (Veloso) y al son de vals de Tacuerembó y candombé o de milonga paraguaya y murga reggae y todo por una guitarra sencilla, directa, pop, hija de los Bob Dylan y The Beatles. Jorge y su productor paisano y amigo Juan Campodónico dieron rienda suelta a experimentos y hallazgos sonoros, a fantasías animadas y otros juegos malabares en obras magistrales por tan innovadoras y admirables como Sea y Eco.
Ahora, la música no para y Jorge en tempestad, arría velas, achica aguas, y nos canta ensimismado o a ciegas, pero despierto, con nuevos acordes, otros instrumentos y arreglos y con viejas raíces. Es un artista apasionante. A las duras, busca e inventa, le aterra repetirse. Jorge se encariña con un dobro y con el sonido metálico o vítreo "slide" que desliza sobre las cuerdas de su guitarra, más cerca de George Harrison que de Ry Cooder. Así resulta "Transoceánica", canción soleada entre nubarrones, un aliento de mañana que anima a encarar la jornada. O "Hermana duda"… Rock Drexler a la americana. Mola, qué voy a decir yo.
"La infidelidad en la era informática" o "Inoportuna". Pianos acústicos y eléctricos, metales, cuerdas, programaciones, guitarras, violín y contrabajo, interferencias digitales. De nuevo, alterna o hermana la guitarra de palo con la tecnología y siempre al servicio de la imaginación y las emociones, nunca del remedo o del disimulo. El ordenador no tiene la culpa. Campodónico y su equipo uruguayo habitual (todos miembros del aclamado grupo Bajofondo Tango Club) más el guitarrista esotérico Huma, el gran baterista Borja Barrueta, el percusionista anfitrión César Araque y otra mucha gente que le acompaña este sentimiento actual hecho disco. El dúo con María Rita en "Soledad", entre violín, berimbau, guitarra, efectos y causa, …deja sin habla. "Soledad" es un clásico, un canto que quedará y se reinterpretará hasta la infinidad. Y sus amigos Paulinho Moska, Leonor Watling o Kevin Johansen le arropan de coros y susurros.
A ciegas y a las claras. El talento de Drexler se rebela también en tiempo de oscuridad. En la duda más íntima, en el pozo de la culpa o en la marea de celos, el artista uruguayo, español o de cualquier lugar, vislumbra el futuro inmediato o confraterniza el planeta en esa versión de "Disneylandia" de Arnaldo Antunes con la voz de su amo. Yo y el otro. Jorge y las circunstancias de su tiempo. Incluso Jorge y su herencia pues somos también lo que fueron nuestros abuelos.
Otra recreación sorprende. Drexler canta por vez primera en inglés la pieza más antigua de este cancionero titulado 12 SEGUNDOS DE OSCURIDAD. Thom Yorke compuso y cantó "High & Dry" para el álbum The Bends de Radiohead en 1994. El llanto de Oxford se torna elegía de Montevideo. Drexler la canta y arpegia a solas y a oscuras. Sobrecoge.
Y la canción más reciente, la última parada en este viaje que prosigue, la moraleja positiva, la cabeza consuela al corazón: "Sanar", mi favorita en estos días de otro verano que se acaba. Nacer y morir, una y otra vez. La despedida constante de Rilke. Piano piano. La vida demanda paciencia. Todo pasa. Piano piano. Jorge muere sabiendo. Duelen las palabras que se juegan nuestra vida. 12 Segundos De Oscuridad-El Álbum… Entre la despedida y la bienvenida, canciones a doce segundos de oscuridad, a años luz. Jorge, ahora te quiero mucho más.
Santiago Alcanda
, Cobeña, septiembre de 2006