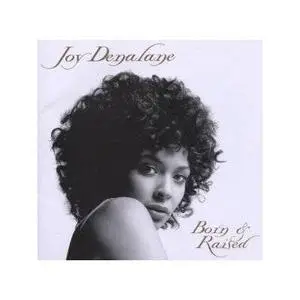 Joy Denalane - Born and Raised (2006) Genre: Soul / R&B
MP3 / VBRkbps / 44,1 / Joint-Stereo / 90,3 MB
Joy Denalanes "Born&Raised" is one of these rare albums, all this added around a true classical author to become, to that when each listening to new, still unknown sides revealed. "Born&Raised" creates it, although in music more purposefully than its predecessor to retain the variety and dynamics learned the Joy Denalane fan to love in such a way. For this album Joy together-did Herre as well as the Songwriter Sékou Neblett, a friend of many years and colleague again with its married man and producer max, and brought a true masterpiece out. "Born&Raised" is a timeless Mélange from late 60's Soul, contemporary Hip Hop/R&B, Gospel and sensitive Balladen and is nevertheless thoroughly "2006". The album in the famous "The studio" (The root, James Poyser, was taken up Larry gold, u.v.a.) in Philadelphia of the Engineer Axel Niehaus renowned internationally. Under the vocal guest contributions names are like the legendary Raekwon of the Wu-seaweed clan, which one gets to hear on Joys Remake of its classical author "Heaven or bright", or Jay Zs of newest Protegé, magnifying glass Fiasco, on the socialcritical HipHopSoul-hymn "CHANGES". The pieces were brought in among other things by James Poyser (Hammond B3), the bassists and producer Anthony Tidd, celebrated Trompeter matt Cappy as well as Jeff "Bone Deep" Bradshaw (trombone) and a multiplicity of the best musicians from Philadelphia and New York, among other things the guitarist/producer Chris Sholar (q-tip, Stevie Wonder), schlagzeuger Steve Mckie (Bilal), Keyboarder Junius Bervine (Musiq), the bassist Josh David, Vocalistin Erika Hicks and not least the internationally celebrated StringArranger/Composer Larry gold. Max Herres vision for the album was it, the TRACKS often which are based on Samples to change or supplement under it also productions of Kanye's Mentor NO ID or of Jake One (among other things De La Soul), to bring BAB in guard (Frankfurt Main) again with live-instrumenten it partly kompositorisch and it again with the programmed Beats to then support. This progressive production concept, which makes "Born&Raised" still more extraordinary, was aufwaendig after max of ' own statement very, but be worth worth, since there are many possibilities opened in music and the album its homogeneous and independent sound.
01 Change feat. Lupe Fiasco
02 Let Go
03 Be Real
04 Heaven Or Hell feat. Raekwon
05 One In A Million
06 For The Love
07 7 Year Itch
08 Caught Up
09 Stranger In This Land
10 Start Over
11 Born & Raised
12 Something Stirrin'Up feat. Governor
13 Despite It All
14 Soweto '76-'06
15 Sometimes Love
Download
Pass:qwertz