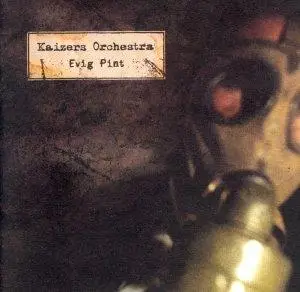 Kaizers Orchestra - Evig Pint (2005)
MP3 320 Kbps | 2005 | Label: NATIONAL| 94 Mb
Genre: Pop/rock | Styles: Rock
Six Norwegians, some guitars, a drum set, a double bass, a pump organ and several oil barrels, steel rims, trash cans and sirens. Sounds very strange at first glance, but it all fits together perfectly!
The music
There's no common genre in which Kaizers Orchestra's music fits. "Officially" one could characterize the music als "norwegian polka", because there's "ompa" in it, a nordic style of music that would probably be called "polka" here in Germany. But no - the Kaizers music doesn't really have anything to do with that… Kaizers Orchestra themselves call their music "Kaizerrock", I guess they haven't found a proper category either… =;-)
From the traditional part of the instrumentation it is obvious that their music is indeed rock-music. Additionally, the six musicians pound furiously at oil barrels and steel rims, which of course intensifies the rhythm and releases a lot of energy. And that's exactly the special thing about Kaizers: the energy. The musicians give everything on stage, the show is perfect, and the fun and energy spreads to everyone in the audience. But also on CD the music is just spellbinding.
Tracklist:
1 DI GRIND
2 HEVNERVALS
3 EVIG PINT
4 DE INVOLVERTE
5 DJEVELENS ORKESTER
6 CONTAINER
7 NAADE
8 MIN KVITE RUSSIER
9 VETERANS KLAGE
10 TIL DEPOTET