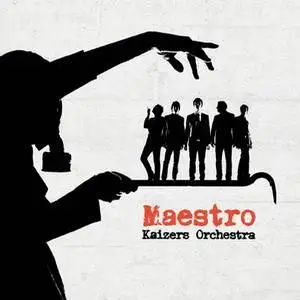 Kaizers Orchestra - Maestro + Maestro Bonus CD (2005)
MP3 320 Kbps | 2005 | Label: UNIVERSAL | 96 + 21 Mb
Genre: Pop/rock | Styles: Rock
There's no conventional way to describe the music of Norwegian six-piece Kaizer's Orchestra sounds. The band's name gives one insight, they're definitely an orchestra of some kind, albeit a completely unheard of kind. Their sound is typified by a mix of alley-pan drums, raucous horns and dirty jazz guitar. The band's website takes a wild stab at classifying the sex-piece, announcing: "Their style of music is rock, with a major Eastern European flavour, à la Tom Waits." If nothing else, they're cultured. The website spiel goes on to declare: "The line-up features drums and electric guitar, which goes without saying, plus double bass, a pump organ and oil barrels plus whatever junk they find along the way." If nothing else, they're slightly insane.
Tracklist:
1. KGB
2. Maestro
3. Knekker deg til sist
4. Señor Flamingos Adieu
5. Blitzregn baby
6. Dieter Meyers inst.
7. Christiania
8. Delikatessen
9. Jævel av en tango
10. Papa har lov (Zahl)
11. Auksjon (i Dieter Meyers Hall) (Zahl)
12. På ditt skift
Bonus Tracks
1. Action (Joachim Nielsen)
2. Kalifornia
3. Tokyo Ice til Clementine