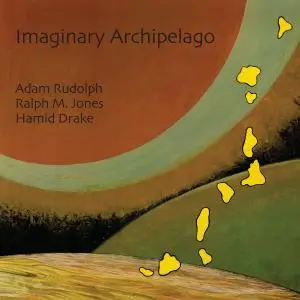 Karuna Trio - Imaginary Archipelago - Hamid Drake, Ralph M. Jones, Adam Rudolph (2020) {Meta Records Meta024}
FLAC (tracks) - 16bit/44.1kHz - Digital Download (bandcamp.com) -> 290 Mb | MP3 @320 -> 158 Mb | Cover | 5% repair rar
© 2020 Meta Records | META 024
Jazz / Creative Music / Ethno Jazz / Spiritual Jazz / Percussion
Energy of Vibratory Motion.

Bands of tin are wrapped around the tongue keys of a thumb piano, a metal rattle is inserted info the end of a string instrument, a gut cord is strung across the skin of a drum: from pre-history to today musican-healers have used these and other methods to complexify the sound of their instruments in order to create a parallel "shadow line" of sound. These rhythm overtones are sometimes called "the voice of the ancestors" and are linked to the transcendent quality of the music.

With similar intent, contemporary technologies were employed in this recording using a creative process of compositional expansion. Electronic processing was applied to the performances so as to generate new rhythms. These added layers of rhythm were designed to become additional voices which move in, out and through the acoustically played Signal Rhythms and Ostinatos of Circularity.

Another intention was to create a kind of sonic masking. In many cultures performers put on masks to transform her or himself into a transcendent/mythic other. Here, sonic masking moves us beyond the familiar and ordinary. We no longer need to hear, for example, a soprano sax as simply itself; the transformed sound expands us into the mysterious and extra-ordinary. This is because, transformed, the linguistic aspect of each instrumental voice is brought more into focus. We can listen with an ear oriented less towards any preconception of virtuosity and more towards the artists' intention of storytelling, song and dialogue.

Processing the sounds of the instruments invites them to resonate into space and creates a shadow world of harmonic colors. As the music unfolds, each instrumental voice sings into this space adding to the dance of orchestration and form.
bandcamp.com INFOPersonnel:
Adam Rudolph
- membranophones (fingers and hands) idiophones, chordophones, overtone singing electronic processing
Ralph M. Jones
- aerophones, voice
Hamid Drake
- membranophones (sticks and hands), idiophones, voice
Recorded by Greg DiCrosta on Sept 21, 2018 at Firehouse 12, New Haven, CTTrack List:
01 - Okomibo
02 - Alima
03 - Ibak
04 - Dimahala
05 - Apekweh
06 - Madazuba
07 - Pitek
08 - Chandirasa
09 - Suwakaba
10 - Vajna
11 - Sorokaba
–––––––––––-
DON'T MODIFY THIS FILE
–––––––––––-
PERFORMER: auCDtect Task Manager, ver. 1.6.0 RC1 build 1.6.0.1
Copyright © 2008-2010 y-soft. All rights reserved
http://y-soft.org
ANALYZER: auCDtect: CD records authenticity detector, version 0.8.2
Copyright © 2004 Oleg Berngardt. All rights reserved.
Copyright © 2004 Alexander Djourik. All rights reserved.
FILE: 11 - Sorokaba (feat. Adam Rudolph & Ralph M. Jones & Hamid Drake).flac
Size: 13267668 Hash: 434F1B5F99A58987F25689B4D5C1D2AF Accuracy: -m0
Conclusion: CDDA 99%
Signature: AC215717C68785D4C960FF2E504B05441F128FE6
FILE: 10 - Vajna (feat. Adam Rudolph & Ralph M. Jones & Hamid Drake).flac
Size: 24595608 Hash: 182D6A00D70B454EE2881A3331C838FB Accuracy: -m0
Conclusion: CDDA 100%
Signature: EF4BBB8529AFD8AA893BD2AF0EF2FE64D3BFEE6A
FILE: 09 - Suwakaba (feat. Adam Rudolph & Ralph M. Jones & Hamid Drake).flac
Size: 25270531 Hash: A0D6C69CFF24A0FFFC7E742933D19AB2 Accuracy: -m0
Conclusion: CDDA 100%
Signature: 31D1B965E67597EC3562A4CE7D47DFBD5C64B6E8
FILE: 08 - Chandirasa (feat. Adam Rudolph & Ralph M. Jones & Hamid Drake).flac
Size: 18723552 Hash: 1517B9BB97EE9EA8C934128561E589DA Accuracy: -m0
Conclusion: CDDA 100%
Signature: 98719C4745D70AFE728CAC2B8918384E385313D9
FILE: 07 - Pitek (feat. Adam Rudolph & Ralph M. Jones & Hamid Drake).flac
Size: 47342007 Hash: 345C337507F6A24B3A52AD69CCDA7B61 Accuracy: -m0
Conclusion: CDDA 100%
Signature: 5D325FE71D1C1876C8BB3E4FEC60865B57EAF5D6
FILE: 06 - Madazuba (feat. Adam Rudolph & Ralph M. Jones & Hamid Drake).flac
Size: 33974781 Hash: 6EDABFEE6BDF80E646DFBEF78BD585ED Accuracy: -m0
Conclusion: CDDA 100%
Signature: D4BCCB839C37C2DFD537E8AB73A4C9C4E151DB53
FILE: 05 - Apekweh (feat. Adam Rudolph & Ralph M. Jones & Hamid Drake).flac
Size: 18419552 Hash: ACBE4978138AB29CB60185C6F68AC8F8 Accuracy: -m0
Conclusion: CDDA 100%
Signature: F0DE1D52C080C6907F7ACB20A8772CBDB1044DB6
FILE: 04 - Dimahala (feat. Adam Rudolph & Ralph M. Jones & Hamid Drake).flac
Size: 21991271 Hash: CB7C32329531D2A935D5C6D1CD50C8AF Accuracy: -m0
Conclusion: CDDA 100%
Signature: 89EB617C8E5D06172C1D0F4BF47EC6BEA7207EA3
FILE: 03 - Ibak (feat. Adam Rudolph & Ralph M. Jones & Hamid Drake).flac
Size: 43195144 Hash: 2F458633FF88B19C657FDA4FD88DAE78 Accuracy: -m0
Conclusion: CDDA 100%
Signature: 3B7AEA7F9AEE2F2674A5A9EB6139A1D310DF7B79
FILE: 02 - Alima (feat. Adam Rudolph & Ralph M. Jones & Hamid Drake).flac
Size: 22006208 Hash: C8C541692DFE5C1FBFDA49AB326B45FE Accuracy: -m0
Conclusion: CDDA 100%
Signature: AB8018AEC9EE3FF82B1B086B1F157D70F342A1B6
FILE: 01 - Okomibo (feat. Adam Rudolph & Ralph M. Jones & Hamid Drake).flac
Size: 21205719 Hash: E7D8C8C941B6DE3C105760C29C21FD2C Accuracy: -m0
Conclusion: CDDA 100%
Signature: 4B252639AFE80EACDAF52075B1B9302DB0D5302E
see more Adam Rudolph…NEXT -> more Adam Rudolph on the way…
===