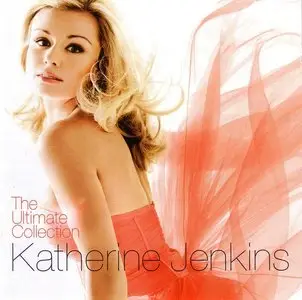 Katherine Jenkins - The Ultimate Collection (2009) [lossless]
Classics, Pop, Crossover | FLAC+CUE, LOG | scans, tags, playlist | 379 MB
The world's favourite mezzo-soprano finally receives the best-of treatment with this collection of her most cherished recordings. From the crossovers of Cohen's 'Hallelujah' to the straight operatic conventions of Puccini's 'O Mio Babbino Caro', Jenkins proves that she is nothing if not versatile. Her lengthy career has also seen such highlights as a version of 'Time To Say Goodbye' (originally made famous by AndreaBocelli and Sarah Brightman) and Andrew Lloyd Webber's 'Music Of The Night', from his 'Phantom Of The Opera' musical. Throughout this collection, it is Jenkins' maturity beyond her years that impresses most in performance.
Track List:
01 Time To Say Goodbye
02 Hallelujah
03 L'Amore Sei Tu (I Will Always Love You)
04 I Vow To Thee, My Country
05 Quello che farò sarà per te (Everything I do I do it for you)
06 Nella Fantasia
07 Hymn to the Fallen
08 The Flower Duet
09 Pie Jesu - Katherine Jenkins, Steffan Hughes
10 Calon Lan
11 Caruso
12 Vide cor meum
13 O Mio Babbino Caro
14 Music Of The Night
15 I Could Have Danced All Night
16 I've Dreamed Of You (Questo e per te)
17 Don't Cry For Me Argentina
Exact Audio Copy V0.99 prebeta 5 from 4. May 2009

Отчёт EAC об извлечении, выполненном 29. декабря 2009, 0:09

Katherine Jenkins / The Ultimate Collection

Дисковод: Optiarc DVD RW AD-5200S Adapter: 1 ID: 1

Режим чтения : Достоверность
Использование точного потока : Да
Отключение кэша аудио : Да
Использование указателей C2 : Нет

Коррекция смещения при чтении : 48
Способность читать области Lead-in и Lead-out : Нет
Заполнение пропущенных сэмплов тишиной : Да
Удаление блоков с тишиной в начале и конце : Нет
При вычислениях CRC использовались нулевые сэмплы : Нет
Интерфейс : Установленный внешний ASPI-интерфейс

Выходной формат : Внутренние WAV-операции
Формат сэмплов : 44.100 Гц; 16 бит; стерео


TOC извлечённого CD

Трек | Старт | Длительность | Начальный сектор | Конечный сектор
––––––––––––––––––––––––––––––––––-
1 | 0:00.00 | 3:46.36 | 0 | 16985
2 | 3:46.36 | 4:47.16 | 16986 | 38526
3 | 8:33.52 | 4:20.62 | 38527 | 58088
4 | 12:54.39 | 3:07.63 | 58089 | 72176
5 | 16:02.27 | 4:15.47 | 72177 | 91348
6 | 20:17.74 | 5:08.56 | 91349 | 114504
7 | 25:26.55 | 4:30.66 | 114505 | 134820
8 | 29:57.46 | 3:50.26 | 134821 | 152096
9 | 33:47.72 | 3:38.44 | 152097 | 168490
10 | 37:26.41 | 2:27.35 | 168491 | 179550
11 | 39:54.01 | 3:51.51 | 179551 | 196926
12 | 43:45.52 | 4:01.03 | 196927 | 215004
13 | 47:46.55 | 2:37.25 | 215005 | 226804
14 | 50:24.05 | 5:46.30 | 226805 | 252784
15 | 56:10.35 | 2:33.38 | 252785 | 264297
16 | 58:43.73 | 3:36.30 | 264298 | 280527
17 | 62:20.28 | 6:16.44 | 280528 | 308771


Характеристики диапазона извлечения и сообщения об ошибках

Выбранный диапазон

Имя файла G:\R_MUSIC\Katherine Jenkins [2009] The Ultimate Collection\Katherine Jenkins - The Ultimate Collection.wav

Пиковый уровень 100.0 %
Качество диапазона 100.0 %
CRC копии E987FBB6
Копирование… OK

Ошибок не произошло


AccurateRip: сводка

Трек 1 точное извлечение (доверие 1) [1F530C4A]
Трек 2 точное извлечение (доверие 1) [F61AEF0E]
Трек 3 точное извлечение (доверие 1) [C377D485]
Трек 4 точное извлечение (доверие 1) [0B98477E]
Трек 5 точное извлечение (доверие 1) [9E238755]
Трек 6 точное извлечение (доверие 1) [D81FD259]
Трек 7 точное извлечение (доверие 1) [1A7D5035]
Трек 8 точное извлечение (доверие 1) [DA866FB3]
Трек 9 точное извлечение (доверие 1) [E9175994]
Трек 10 точное извлечение (доверие 1) [DBC4DB8A]
Трек 11 точное извлечение (доверие 1) [0AF84FCC]
Трек 12 точное извлечение (доверие 1) [5E3507A5]
Трек 13 точное извлечение (доверие 1) [D7029A39]
Трек 14 точное извлечение (доверие 1) [EBE136B8]
Трек 15 точное извлечение (доверие 1) [723E816A]
Трек 16 точное извлечение (доверие 1) [38EA92B9]
Трек 17 точное извлечение (доверие 1) [11405B1F]

Все треки извлечены точно

Конец отчёта