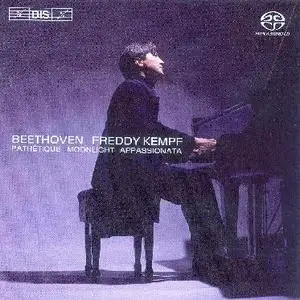 Freddy Kempf - Beethoven: Piano Sonatas 8, 14 and 23
classical, piano | M4A | 256 kbps | 116 mb |
1. Sonata for Piano no 8 in C minor, Op. 13 "Pathetique"
2. Sonata for Piano no 14 in C sharp minor, Op. 27 no 2 "Moonlight"
3. Sonata for Piano no 23 in F minor, Op. 57 "Appassionata"
Freddy Kempf has become one of the most important young artists on the world stage today. He has worked with major conductors and distinguished conductors and he is building a reputation as a serious, sensitive and profoundly musical artist.
The Daily Telegraph wrote "Kempf has the maturity and musicality with which to harness his gifts to artistic ends. He has the fearless exuberance of youth. He is prepared to take risks, a readiness that brings spontaneous combustion to his playing; but he has sensitivity, too."
Date: Feb 22, 2005
Classical, Piano
bitrate: 256 kbps, M4A*, 116Mb
* Files in .M4A format are actually the audio layer of (non-video) MPEG 4 movies. M4A is slated to become the new standard for audio file compression. This format is also known as Apple Lossless, Apple Lossless Encoder, or ALE. It is a new codec designed to provide lossless encoding in less storage space.
Download-Links:
http://rapidshare.de/files/19217574/Kempf_Sonatas.part1.rar.html
(61,9 Mb)
http://rapidshare.de/files/19222736/Kempf_Sonatas.part2.rar.html
(54,2 Mb)
No pass
Freddy Kempf won the BBC Young Musician of the Year Competition in 1992 following his performance of the Rachmaninov Paganini Variations, and in subsequent years has received very high praise from the international press, both for his solo recital performances and his chamber recordings. BIS released the pianist's recording of the Beethoven Archduke Piano Trio with his Kempf Trio, and now sees the release of a strong disc of the three iconic Beethoven sonatas. This is his second disc of Beethoven solo piano works.
Kempf's playing is both very assured and full of impulsive drama. He displays quite idiosyncratic use of the pedal in the explosive opening to the Pathetique, and very dynamic transitions between movements, especially in the Appassionata. Still under 30 years of age, Kempf is building a very strong discography, which already includes the Liszt transcendental etudes and Chopin etudes Opp. 10 and 25.