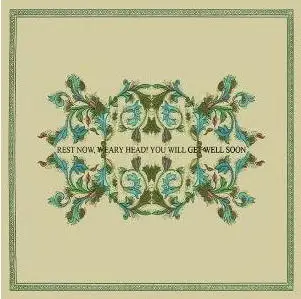 Konstantin Gropper - Rest now weary head you will
Electronic - Rock | MP3 vbr 197kbps - Lame 3.97 V2 | label: City Slang/133 mb | 11-2008
The man behind get well soon is "konstantin gropper". a 26 year old german, who was born and raised in southern germany. he's a musical all-rounder….. who studied at the "mannheim pop academy" (piano, cello, drums/percussion and guitar), wrote "rave" reviews for german mags and was into indie and alternative music when most of us still shit our diapers…. his musical influences vary from classical stuff, 80s and indie/alternative bands to jazz.
Bass - Dominik Meeth
Performer [Everything Else] - Konstantin Gropper
Programmed By [Additional] - Phillip Schwär
Trumpet - Sebastian Benkler
Violin - Verena Gropper
Vocals - Aoife O'Sullivan, Maike Rosa Vogel, Mercedes O'Reilly, Sebastian Benkler, Verena Gropper , Wallis Bird
Written-By, Producer - Konstantin Gropper
Track List: Disc 1
01. Prelude
02. You/Aurora/You/Seaside
03. Christmas In Adventure Parks
04. People Magazine Front Cover
05. If This Hat Is Missing I Have Gone Hunting
06. Help To Prevent Forest-Fires
07. I Sold My Hands For Good So Please Feed Me
08. We Are Safe Inside While They Burn Down Our House
09. Born Slippy Nuxx
10. Your Endless Dream
11. Witches! Witches! Rest Now In The Fire
12. Ticktack! Goes My Automatic Heart
13. Lost In The Mountains (Of The Heart)
14. Coda
Track List: Disc 2
01. Against The Glaciation
02. Heading Home To The Pole
03. You're Using All Your Senses Just For Being Sad
04. It's Just Friendly Fire
05. Listen! Those At Sea Sing A Song On Christmas Day
06. Green Island Never Turns White
07. Dear Temptest-Tost, Dear Weakened
Link