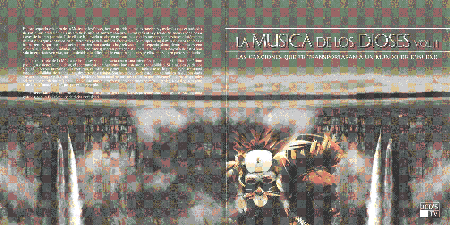 La Musica de los Dioses ( The Music Of The Gods)
New Age | MP3 320 Kbps LAME Enc. | Covers Included | 113:08 | 305 MB
Links:
http://rapidshare.de/files/23160490/La_Musica_De_Los_Dioses_Vol_2.part1.rar.html
http://rapidshare.de/files/23183553/La_Musica_De_Los_Dioses_Vol_2.part2.rar.html
http://rapidshare.de/files/23270572/La_Musica_De_Los_Dioses_Vol_2.part3.rar.html
http://rapidshare.de/files/23274967/La_Musica_De_Los_Dioses_Vol_2.part4.rar.html
Relax And Meditation Music… 2 CD, Enjoy It
Password: Borito
My Previous Posts:
Los Tiempos Pasados ( The Past Tense)
Medieval, Renaissance, Viceregal and Sefardi Music
Jesus Christ Superstar
Original Soundtrack (Full 2 CD)
Beatles - Past Masters
( Full 2 CD)
Alfonso X El Sabio - Healing Remedies (The Cantigas of Sacred Maria) 1221-1284
"The Aesthetic Bible of XIII Century".
Sonates et Pieces Anciennes d Auteurs Spagnols
"Classiques Spagnols du Piano".
Jorge Reyes - El Costumbre
"Prehispanic Music".
Rod Stewart - Great American Songbook IV[[/color]"U.S.A. Classic Songs".

Les Luthiers - Super Humor
"Gracioso Album de estos Talentos Argentinos".
Guadalupe Pineda - Arias de Opera
"Beautiful Voice".
Voices From The Fifa World Cup
"Official CD Germany 2006 FIFA World Cup".
A & M More Something Special
"Modern Jazz Compilation".
Tlen Huicani y Lino Chavez - Veracruz Son y Huapango
"Mexican Folk Music".
Cesaria Evora Sao Vicente di Longe
"The Barefoot Diva".