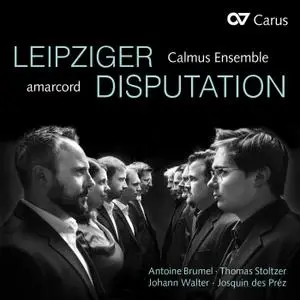 Calmus Ensemble & Amarcord - Leipziger Disputation - Antoine Brumel, Josquin Des Prez, Nicolas Gombert, etc al. (2019) {Carus}
FLAC (tracks) - 16bit/48kHz - Official Digital Download (highresaudio.com) -> 391 Mb | MP3 @320 -> 182 Mb
Full Artwork (jpg+pdf) -> 55 Mb | 5% repair rar
© 2019 Carus-Verlag, Stuttgart | 83.497
Classical / Renaissance / Sacred
This release is the first joint project of the internationally renowned Leipzig vocal ensembles amarcord and Calmus. The centerpiece is the splendid sonority of the twelve-part Mass by Antoine Brumel, which is said to have been performed on the occasion of the famous disputation between Martin Luther and theologian Johannes Eck 1519 in St. Thomas s Church. It was a highlight of musical life in Leipzig and, at the same time, a milestone in polyphonic vocal music. The mass is complemented by compositions by Josquin des Préz, Johann Walter, Thomas Stoltzer and others.

amarcord is a German male vocal ensemble based in Leipzig. Founded in 1992, the group primarily performs Medieval music, Renaissance music, and works by contemporary composers. Calmus is made up of five Leipzig musicians who are known for their perfect blend of sound, precision, lightness and wit. The reach of the group s activities is constantly expanding, taking them throughout Europe as well as to North and South America.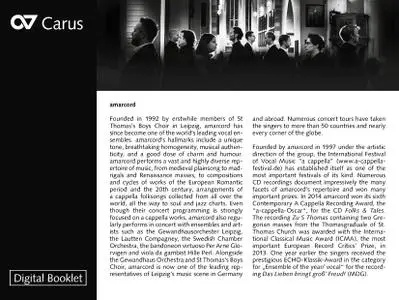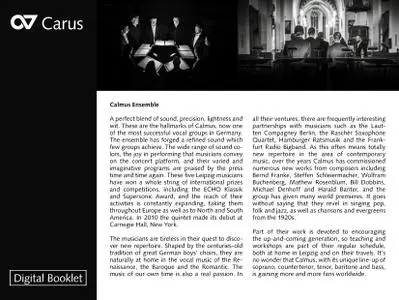 highresaudio.com INFO
carus-verlag.com INFOPerformers
Calmus Ensemble
amarcord
Works on This Recording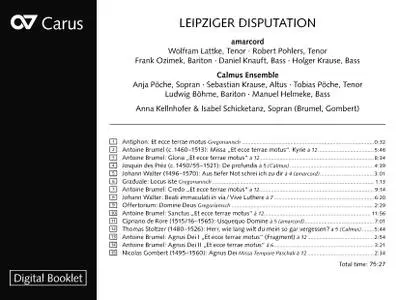 –––––––––––-
DON'T MODIFY THIS FILE
–––––––––––-
PERFORMER: auCDtect Task Manager, ver. 1.6.0 RC1 build 1.6.0.1
Copyright © 2008-2010 y-soft. All rights reserved
http://y-soft.org
ANALYZER: auCDtect: CD records authenticity detector, version 0.8.2
Copyright © 2004 Oleg Berngardt. All rights reserved.
Copyright © 2004 Alexander Djourik. All rights reserved.
FILE: 15. Missa Tempore paschali V. Agnus Dei.flac
Size: 15275042 Hash: 00BD18AAA702AE57AFB3972AABBD77B2 Accuracy: -m0
Conclusion: CDDA 86%
Signature: A8FDF775AAAB4B77B85C6B86EAFF8BC24C829D07
FILE: 14. Missa Et ecce terræ motus Vb. Agnus Dei II.flac
Size: 16111961 Hash: 49E8486A33C4F21A8DC64C90D2700A18 Accuracy: -m0
Conclusion: CDDA 76%
Signature: B89022EFBC826B3AA69D086E6A51F1122EC196B0
FILE: 13. Missa Et ecce terræ motus Va. Agnus Dei I.flac
Size: 13409914 Hash: AC23A8BA024A42178AD94683E3336C48 Accuracy: -m0
Conclusion: MPEG 93%
Signature: 5350A8D25EFD246778260372227A58A0B80D2AA8
FILE: 12. Herr, wie lang wilt du mein so gar vergessen.flac
Size: 31019735 Hash: 61649963030ACF562D325A2966691CED Accuracy: -m0
Conclusion: CDDA 100%
Signature: E511E8E1F28986AE55FB8822A72D69B4B6D7D723
FILE: 11. Usqueqo domine.flac
Size: 32616444 Hash: 94F3C3476C2E2FC09283D7D0ADC49E6E Accuracy: -m0
Conclusion: MPEG 90%
Signature: 863EEC44929A6E6940E4D5A7BC966224474EB126
FILE: 10. Missa Et ecce terræ motus IV. Sanctus.flac
Size: 63704688 Hash: 9B6B4895C63F08F56F72176544360697 Accuracy: -m0
Conclusion: CDDA 43%
Signature: F1864866B2E672D37BD2B377999295D647F0CC91
FILE: 09. Domine Deus.flac
Size: 9292039 Hash: 60D4D7D46F292B710DB436D6A577FF90 Accuracy: -m0
Conclusion: MPEG 80%
Signature: 63E839C929E0AAA9F4A930CB6D57B034438781FD
FILE: 08. Beati immaculati in via.flac
Size: 33173878 Hash: BCAE01B79C39FBBFE267A827350D6AAD Accuracy: -m0
Conclusion: CDDA 85%
Signature: 1E5EC410F36B263074BFF597D105373E8CD4C1BE
FILE: 07. Missa Et ecce terræ motus III. Credo.flac
Size: 50373715 Hash: 2CD7C0DABCF37BB9578E9187A395D9B6 Accuracy: -m0
Conclusion: CDDA 54%
Signature: 3F916F364DC8E7F4791CBEE3D9D00255D34099CA
FILE: 06. Locus iste.flac
Size: 4675376 Hash: 85A3134F2DC0D615FD12FFCF6802D85C Accuracy: -m0
Conclusion: CDDA 100%
Signature: EA1BDE94586F07BBD73B4A7348DB3B8BF80CB2D1
FILE: 05. Aus tiefer Not schrei ich zu dir.flac
Size: 14685756 Hash: 30217D7060B7A102A8C0F2BE95F8B629 Accuracy: -m0
Conclusion: CDDA 100%
Signature: 96A4898261E8912F1D84235A55271558A6A15E8E
FILE: 04. De profundis clamavi à 5.flac
Size: 24454278 Hash: 5A2AEC2838725A20D40CF31F8DB5799B Accuracy: -m0
Conclusion: CDDA 100%
Signature: 810F0A008647FFA1616A935BBAD571E7C5C76B44
FILE: 03. Missa Et ecce terræ motus II. Gloria.flac
Size: 46786878 Hash: E0CF6B20658D09FAC3C99AE1C68E7088 Accuracy: -m0
Conclusion: CDDA 43%
Signature: AD002B4C75E87B7DFE498667D8E41EBAB9C0C96B
FILE: 02. Missa Et ecce terræ motus I. Kyrie.flac
Size: 32896694 Hash: 37CC62366F30A6F7BCD3DB8A4E16B62B Accuracy: -m0
Conclusion: CDDA 62%
Signature: C3FD1E5F1628F259E20DF856EF82F6B66D92381A
FILE: 01. Et ecce terrae motus.flac
Size: 2215722 Hash: 33B4822BDEF5EC256B1DDACDE296D904 Accuracy: -m0
Conclusion: CDDA 85%
Signature: B584AB10C4C413C0772FA4895D3EDBAE86222201
===