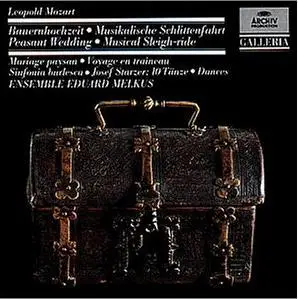 Leopold Mozart - Bauernhochzeit - Musikalische Schlittenfahrt
38 tracks | MP3 | 192 Kbps | RAR file 98Mb
Leopold Mozart has a threefold claim to be remembered as the father of Wolfgang Amadeus who recognized his son's immense talent and devoted the latter part of his life to developing and fostering it; as the author of the first violin method to attract worldwide attention; and as a composer who both discovered an individuaI style and produced his best work in the sphere of agreeable entertainment music. Leopold Mozart's aim was to write popular music - popular not only in its links with folk music and its use of instruments familiar to ordinary people of his day although seldom heard in orchestras - but above all in its use of appealing melodies and simple construction in regularly shaped phrases, so that all his listeners could appreciate his compositions, not only those with a musical education. This outlook combined the musical mentality of the middle-class Augsburg family into which he had been born with the desire for a simple, natural life which marked the Age of Enlightenment and also with a certain readiness to compromise in the commercial sense; he certainly wanted his compositions to please, and to earn money.
The Musical Sleigh-ride and Peasant Wedding are prime examples of musical wit. Leopold Mozart composed them for carnival celebrations at Augsburg; a fortnight before Wolfgang's birth in January 1756 they were performed for the first time by the town's Collegium Musicum in the Three Kings tavern.
Josef Starzer was principally a composer of ballet music. Trained as a violinist, singer and composer, he joined the orchestra of the French Theatre in Vienna in 1752, and there he was appointed by Count Durazzo, the Imperial Theatre Director and supporter of Gluck, as Compositeur des Airs pour les ballets.
The 18th-century musical historian Dr. Burney praised him as a violinist, writing that he executes Adagios with uncommon inwardness and feeling. Starzer won fame through his collaboration with the ballet dancer and choreographer Noverre, an association which gave rise to numerous works including those from which the dances in this recording are taken Diane et Endimione, 1771-72, Roger et Bradamante, 1771, and Gli Orazi e i Curiazi, 1774.
All the dances in this recording have been transcribed from the manuscript sources, are hitherto unpublished, and therefore have the attraction of novelty, in addition to their musical qualities. The excellence of the music by the unknown Starzer greatly surprised us.
Leopold Mozart - Sinfonia D-dur (Die Bauernhochzeit)
(Peasant Wedding - Mariage Paysan - Nozze paesane)
1. 1. Marcia villanesca
2. 2. Menuett
3. 3. Andante
4. 4. Menuett
5. 5. Finale. Molto allegro
Leopold Mozart - Musikalische Schlittenfahrt
(Musical Sleigh-ride - Promenade en traineau - Viaggio musicale in slitta)
6. 1. Intrada
7. 2. Andante
8. 3. Presto
9. 4. Intrada
10. 5. Schlittenfahrt
11. 6. Andante, sempre piano: Das schüttelnde Pferd
12. 7. Aufzug
13. 8. Allegro
14. 9. Intrada
15. 10. Schlittenfahrt
16. 11. Adagio: Das vor Kälte zitternde und schnatternde Frauenzimmer
17. 12. Des Balles Anfang: Menuett / Trio
18. 13. Deutscher Tanz I. Presto
19. 14. Kehraus. Allegro
20. 15. Pianissimo
21. 16. Deutscher Tanz II
22. 17. Kehraus. Allegro
23. 18. Intrada
24. 19. Schlittenfahrt
Leopold Mozart - Sinfonia burlesca G-dur
25. 1. Sinfonia
26. 2. Hanswurst (Menuett)
27. 3. Il Signor Pantalone (Andante)
28. 4. Arlecchino (Allegro)
Josef Starzer - Tänze: Auswahl
29. 1. Contredanse
30. 2. Gavotte - Trio
31. 3. Pas de deux
32. 4. Menuett
33. 5. Gavotte - Trio
34. 6. Moderato
35. 7. Gavotte
36. 8. Menuett - Trio
37. 9. Gavotte - Trio
38. 10. Passepied - Trio
<a href="http://www.FriendlyDuck.com/AF_TA/rel/index.cfm?RST=UNF&TAD=432842&fn=Leopold%20Mozart%20-%20Bauernhochzeit%20-%20Musikalische%20Schlittenfahrt" onclick="log_click('Leopold%20Mozart%20-%20Bauernhochzeit%20-%20Musikalische%20Schlittenfahrt', 'www.friendlyduck.com'); return true;" target="_blank" rel="nofollow noopener noreferrer">HOSTED ON RS via BLOGSPOT</a>