Liszt
Totentanz – Malédiction – Fantasia on Hungarian Folk Themes
Jorge Bolet, piano – London Symphony Orchestra, Cond. Ivan Fischer
Recording: Walthamstow Assembly Hall, London, March 1984
DECCA Release from 1985
MP3 320 kbps | LAME Enc | ID3tags, Cover, Playlists | 108 Mb
or
APE 478-500 kbps | ID3tags, Cover Playlists | 175 MB
Franz Liszt (1811 – 1886)
Totentanz (15.59)
Malédiction (15.18)
Fantasia on Hungarian Folk Themes (15.36)
Playing Time: 46:59
It seems to be that this CDA is nowadays only avalible in a 9 CD-Boxed-Edition.*
Have a look at Decca
And you may find additional information and
streaming samples
in the tracklist
No.9
I'm sure this is exactly the same recording my posting deals with.
So you may try out whether you like that music or not.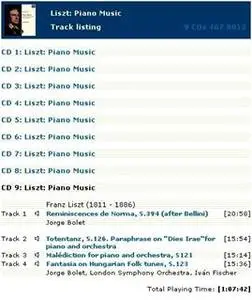 *= Would be nice if anybody could share it ;)
Note:
mp3-files are again in small pieces (20mb) to give dial-up-users a chance to participate
without sparing quality.
So please do not complain about this.
I guess lucky highspeed-users will prefer APEs in any case.
Booklet with additional notes in english, french and german always included.