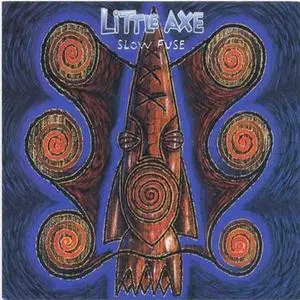 Artist : Little Axe
Album : Slow Fuse
Release Date : 1996
Playtime: 54:24
Label : Wired
Quality : mp3 256Kb
Size : 108Mb
Genre : Blues
Styles : Modern Electric Blues, Modern Acoustic Blues, Dub, Blues Gospel
1994 The Wolf That House Built
1996 Slow Fuse
2002 Hard Grind
2004 Champagne And Grits
You could see in previus
my post
Information about group Little Axe.
Moscow Times Newspaper:

Little Axe "Slow Fuse" (Wired)

Little Axe's previous album was perhaps the first truly innovative blues record since the days of Jimi Hendrix. The new one continues the same successful concept: putting the traditional blues guitar within the ultra-modern aural context, i.e. hip hop, dub, ambient, trip-hop and other hi-tech atmospherics. The idea is quite obvious, but what makes Skip McDonald's (Little Axe's author-guitarist) work so valuable is how tasteful and organic the fusion is. Should fully please both blues purists and acid jazz kids.
TrackList:
1 Blue 2:10
2 On The Beat Sound 3:44
3 Storm Is Rising 5:13
4 Black Diamond Train 4:13
5 Short Fuse 5:09
6 Going Down Slow 3:57
7 Must Have Been The Devil 4:45
8 People Do 5:15
9 Amber 2:13
10 Chains 3:40
11 Return 5:21
12 Too Late 5:05
13 Speak Easy 3:45
RAR. Recovery record 3%
Preview track 12 (9Mb):
http://rapidshare.de/files/17219585/12_Too_Late.rar
mp3 (108Mb):
http://rapidshare.de/files/17169109/SlowFuse.part1.rar
http://rapidshare.de/files/17180041/SlowFuse.part2.rar
http://rapidshare.de/files/17158724/SlowFuse.part3.rar