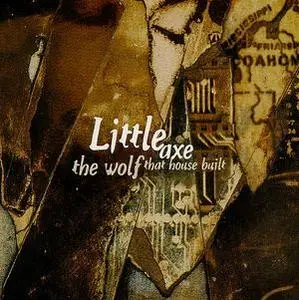 Artist : Little Axe
Album : The Wolf That House Built
Release Date : 1994
Playtime: 60:10
Label : OKeh/Epic
Quality : mp3 128-192Kb
Size : 68Mb
Genre : Blues
Styles : Modern Electric Blues, Modern Acoustic Blues, Dub, Blues Gospel
Prev disks:
1994 The Wolf That House Built
1996 Slow Fuse
2002 Hard Grind
2004 Champagne And Grits
Technically this is an Epic release, but those in the know will see Adrian Sherwood listed as producer and Skip McDonald as sole performer and understand immediately: in all but name, this is an On-U Sound production. What does that mean? It means that groove will be primary, words secondary, and overall sound will be dark and thrilling; it means that weird samples will bubble up unpredictably from beneath churning funk and reggae rhythms; and it means that a certain degree of dubwise anarchy will infuse every note. What distinguishes this album from other On-U projects is the raw material: whereas an On-U Sound album generally builds on a reggae foundation, Skip McDonald's background is in the blues, and what he has put together here is a tribute to Howling Wolf. This is a roiling pastiche of samples taken from Wolf's singing and speaking, all of them thrown into a stew of funk and reggae beats and interspersed with McDonald's own multi-tracked vocals (which will sound very familiar to fans of Tackhead and Strange Parcels, both of which were founded by him). It's hard to identify highlights here, but some of the album's especially strong moments come during "Ride On," which samples Howling Wolf's discussions of life on the road, and the primarily instrumental "Out in the Rain and Cold."

Tracks
01. Ride On
02. Time Has Come
03. Crossroads
04. Never Turn Back, Pts. 1 & 2
05. Another Sinful Day
06. Out in the Rain and Cold
07. Crossfire
08. Wolf Story
09. Hear My Cry
10. Daton
11. Falling Down
12. Wake the Town