Within Temptation - Live concert Java Eiland, Amsterdam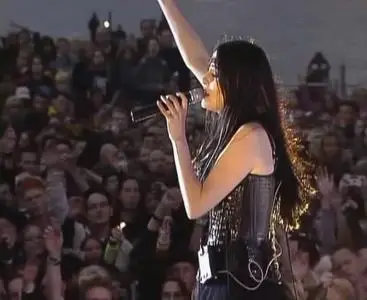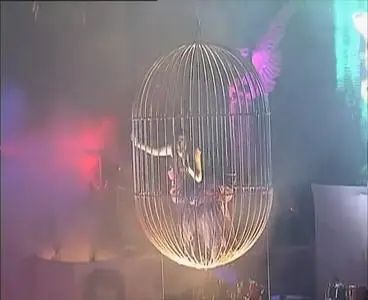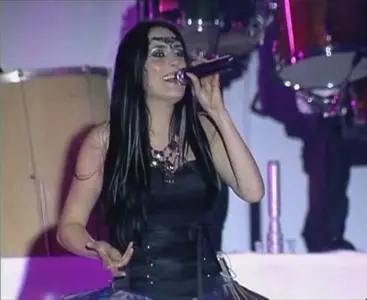 На концерте была и процессии с факелами, и даже подвесная позолоченная клетка, в которой находилась Шарон во время исполнения композиции "Caged". Это было потрясающее выступление, хотя оно чуть было не сорвалось:
Robert Westerholt рассказывает:
- Накануне выступления был сильный ветер, и сцена со всеми вывесками и оборудованием была ненадежной. Поэтому за сценой пришлось соорудить защиту от ветра из фрахтовых контейнеров, чтобы работы на сцене могли идти дальше. К счастью, в день концерта ветер стих…
- Мне нужно было подать сигнал опустить клетку во время исполнения композиции, а я дал его немного позже, так что вы можете услышать пение Шарон буквально из-за сцены, в то время когда возвращалась назад!
- Это был замечательный момент, который я увидел при редактировании записи, несколько бумажных конфетти упали на камеру, и вы видите Шарон, которая подходит очень близко к объективу чтобы убрать их! Она виртуально встречается лицом к лицу со зрителями, это особенный момент. Это необычный кадр, но мы решили его сохранить. Для Шарон естественно внимательно относиться к любой детали. На сцене она всегда работает на 110% для выступления и для поклонников. Даже я удивляюсь, что она никогда не "спотыкается".
Within Temptation Site
Русский фан-сайт
Tracklist:
01. Deceiver of Fools
02. Stand My Ground
03. Jillian (I'd Give My Heart)
04. It's the Fear
05. Forsaken
06. Angels
07. Towards The End
08. Memories
09. Intro
10. See Who I Am
11. Aquarius
12. Pale
13. Jane Doe
14. Caged
15. Mother Earth
16. Candles
17. The Other Half (Of Me)
18. Ice Queen
Sample 00:01:00 / 19 Mb
Part 01
Part 02
Part 03
Part 04
Part 05
Part 06
Part 07
Part 08
Part 09
Part 10
Part 11
Part 12
Part 13
Part 14
Part 15
Part 16
Part 17
pass: haRD
Кроме этого:
Добавлено бонусное видео к публикации
Сергей Маврин - Откровение (2006)
и
добавлены бонусные треки c LE к публикации
Witt - Bayreuth 3 (2006)
Смотрите комменты!Инфа для восстановления в каждом архиве!
The information for restoration in each archive!