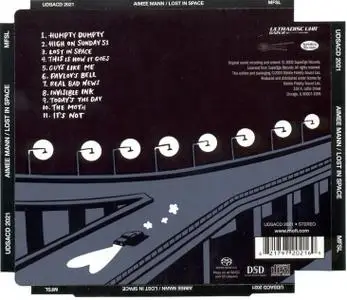 CD FULL RANGE ONLY | EXACT AUDIO COPY IMAGE (WAV+CUE) | 455 MB (319 MB RAR)| MOBILE FIDELITY SOUND LAB | AUDIOPHILE CD
Mobile Fidelity Sound Lab has been the undisputed pioneer and leader in audiophile recordings since the company's inception in 1977. Established by dedicated audiophiles, Mobile Fidelity's first and foremost goal was to offer faithfully reproduced high fidelity recordings that would compliment the numerous advances occurring in audio delivery systems. Throughout its history, Mobile Fidelity has remained true to this goal, pioneering state-of-the-art technologies and setting audiophile standards that remain in place today.
In response to rapid advancements in both recording formats and audio delivery systems over the past several years, Mobile Fidelity has maintained its ongoing commitment to improving industry standards. This has resulted in the introduction of numerous innovations in the audiophile arena: half-speed mastered Original Master Recording™ LPs, Ultra High Quality Records™ (UHQRs), high fidelity cassettes, consumer alignment devices for phono cartridges and audio cassette decks, Original Master Recording™ compact discs, the 24-karat gold plated Ultradisc™ CD and the Ultradisc™ Ultra High Resolution™ (UHR). To this day the independently owned firm continues its commitment to exceeding industry standards.
This is a true Collector's find for those individuals who want to own the finest and rarest pieces of musical history. It is similar to owning the artist's own Rare Gold Record Album in a Gold CD pressing. You will be one of the last people in the world to own these Limited Edition Long Out of Print Masterpieces that will add true value to your Collection.
MFSL LIMITED GOLD EDITION. This 24-Karat Gold Limited Edition is an audiophile collectors item that simply gives the feeling of being directly in the studio with the artist.
This recording is mastered from the Original Session Tapes and the disc is custom pressed using 24-Karat Gold (known for its superior qualities and resistance to oxidation). This Out of Print Gold bonafide collectible disc has all Liner Notes, Photos, and Artwork from the Original LP faithfully recreated.
A SONIC WORK OF ART. These Out of Print gems are the Ferrari of the audiophile CD market. Many over the last year have doubled or tripled in value. The future of these collectibles is so exciting because each piece is a sonic work of art that will never be reproduced using this expensive 24-Karat Gold mastering process. You will be one of only a few thousand in the world owning this audiophile classic.
MUSIC CD:
SACD
SACDs, or Super Audio CDs, offer much higher fidelity than regular compact discs, containing up to four times the musical information. SACDs will not play in traditional CD players, but SACD players are able to play both SACDs and CDs.
Hybrid SACD
The SACD layer of hybrid SACDs offers much higher fidelity than regular compact discs, containing up to four times the musical information. Hybrid SACDs are designed for CD-quality playback on conventional systems, including home and car stereos, portable CD players, computer CD- and DVD-ROM drives, and DVD players.
Gold CD
In place of the aluminum commonly used as the reflective coating on regular CDs, gold is sometimes used, which coats more evenly and reacts with oxygen slower, providing greater longevity. The higher fidelity associated with gold CDs is actually a result of the remastering process and not of the gold coating itself. Gold CDs can be played in any CD player.
Artist: Aimee Mann
Title: Lost In Space
Format: Hybrid SACD
Record Label: Mobile Fidelity (ULTRADISC UHR GAIN 2)
Catalogue No: UDSACD 2021
Country of Origin: USA
Release: July 8, 2003
Original Release: 2002
Tracklisting
01 Humpty Dumpty (Mann) - 4:01
02 High on Sunday 51 (Dalen/Mann) - 3:15
03 Lost in Space (Mann) - 3:28
04 This Is How It Goes (Mann) - 3:47
05 Guys Like Me (Mann) - 3:12
06 Pavlov's Bell (Mann) - 4:27
07 Real Bad News (Mann) - 3:53
08 Invisible Ink (Mann/Scoble) - 4:59
09 Today's the Day (Mann) - 4:42
10 The Moth (Mann) - 3:46
11 It's Not (Mann) - 3:27
Aimee Mann's sonic and artistic masterpiece Lost In Space, her fourth solo release since her 'Til Tuesday stardom, is a perfect match for Mobile Fidelity's GAIN 2™ (Great Ambient Information Network) mastering process. When Mobile Fidelity learned of Aimee Mann and her producers' dedication to analog recording, they knew this would become one of the finest rock SACD's ever produced! Taken from the original 1/2" analog master tape, the SACD has incredible depth and mesmerizing musical textures which perfectly complement Mann's seductive voice and serious lyrics. The natural vocal presentation of this SACD sounds warm and relaxing even through Mann's expressions of angst and irony. Mann and producer Michael Lockwood sought to create an aural environment that matched her dark, poetic lyrics addressing themes of addiction and social misconnections. "As we were recording, we started to put sounds in that we referred to as 'space noise,'" Mann explains, "which obviously tied in with the title of the record and the theme of the songs, which is feeling isolated and cut off from other people and yourself, trying to make connections to people and failing." This melodic modern rock album, complete with an expanded 36-page illustrated booklet, is already being acclaimed as one of the finest SACD productions to date. Playable in any SACD, CD or DVD player, this hybrid SACD from MFSL couldn't come more highly recommended!
Review
You've probably heard Aimee Mann's story a dozen times: how, after releasing albums on Geffen in the 90s, she quickly became dissatisfied with the label's treatment of her records, and soon decided to buy back the tapes for her third full-length, Bachelor No. 2, and put it out herself. Just another long-haul pop talent that the majors have signed and then foolishly refused to make time for. So we can all root for her success story: she managed to move 200,000 copies of Bachelor No. 2 by herself, and now has a second album– her fourth overall– on her own label.
The story of her business life is worth retelling because it's so close to the themes of her songwriting: she hits bad times, but never mires herself in them. And it's easy to see why P.T. Anderson wrote his film Magnolia loosely around her songs: she understands the people who struggle through their work and love lives on the fringes of show business. As an industry veteran she seems to have learned to turn the highs and lows into a day-to-day routine, and in that spirit, she's learned to explore the most depressing themes while transcending the self-pity so associated with lovesick laments.
Lost in Space is the first album Mann has made solely under her own guidance and for her own label. And as with all her work, the craftsmanship is impeccable– three- or four-minute pop songs with arching, lilting melodies, and arrangements where every detail is in place, from the succinct but grinding guitar solos, to the subtle keyboards and embellishments that back her up. And then there's the centerpiece: the rich tone of her subtly expressive vocals, a voice that's so even and melodic that the slightest crack speaks volumes. Her hooks grow subtler with every album, and though it can take a couple listens for some of her better tunes to catch hold here, her ballads have only become more striking: "This Is How It Goes" and "Invisible Ink", both opening with just Mann and her acoustic before swelling into orchestration, may be her most heartbreaking yet.
More so than with her previous albums, every song on Lost in Space sticks to the themes of need, strife and desire, filtering them through her own relationships and career while maintaining a narrative loose enough to apply to the listener's own experiences. Mann excels at writing lyrics that use specific imagery but carry general meanings. She talks about ambition ("The moth don't care when he sees the flame/ He might get burned, but he's in the game"), and the aching chorus of "This Is How It Goes" outlines a story while remaining unlimited by precise details: "It's all about drugs, it's all about shame/ And whatever they want, don't tell them your name." Sure, this is all far from chipper, without even one bright or hypercatchy song to mix things up, but the consistency, for the most part, is tight enough to warrant it.
For the most part. While Bachelor No. 2 felt more disparate and less powerful, the tracklist was varied and inventive. Lost in Space leaves you feeling that she's already covered this terrain– even played variations of some of these songs. I find myself liking the sum more than its parts. But it's hard to fault Mann for repeating a formula that works this well, or for making a record this focused. Her fans will certainly adore it regardless, though if you're new to her work, Bachelor No. 2 may be a better place to start.
-Chris Dahlen, August 26th, 2002
Listening! You can hear a difference! Enjoy it!
RIPPED AND UPLOADED BY ALEJX007
Links tested 10/06/2006
DOWNLOAD RAPIDSHARE LINKS (covers included), rar files (3% recovery)
(You need FEURIO,NERO, Alcohol or EAC to burn image files to music CD; load CUE file)
:
Download Lost In Space part 1 (100.0 MB)
Download Lost In Space part 2 (100.0 MB)
Download Lost In Space part 3 (100.0 MB)
Download Lost In Space part 4 (019.1 MB)
Password (if this is require):
www.AvaxHome.ru