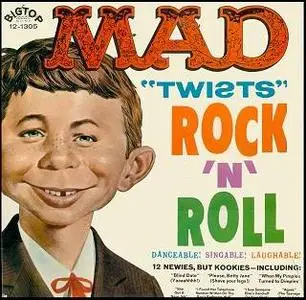 [MAD Magazine] MAD Twists Rock N Roll
Big Top LP, 1962 | 28MB
http://rapidshare.de/files/32641664/_MAD_Magazine__AUDIO_Twists_RockNRoll.rar
1. (Throwing the) High School Basketball Game
2. (She Got A) Nose Job
3. Please Betty Jane (Shave Your Legs)
4. Somebody Else's Dandruff
5. Blind Date
6. Agnes (The Teenage Russian Spy)
7. Let's Do the Pretzel
8. I ́ll Always Remember Being You
9. When My Pimples Turned To Dimples
10. She's A Serious Teenager In Love
11. (All I Have Left Is) My Johny's Hubcap
12. Written On the Boys Bathroom Wall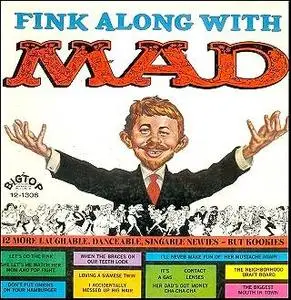 [MAD Magazine] Fink Along With MAD
Big Top LP, 1963 | 30MB
http://rapidshare.de/files/32630460/_MAD_Magazine__AUDIO_Fink_Along.rar
01. Let's Do the Fink
02. Her Mustache
03. Biggest Mouth In Town
04. Her Dad's Got Money
05. His Hair
06. It's A Gas
07. Don't Put Onions on Your Hamburger
08. Loving a Siamese Twin
09. She Lets Me Watch Her Mom and Pop Fight
10. The Braces on Your Teeth
11. Contact Lenses
12. The Neighbourhood Draft Board
13. A Mad Extra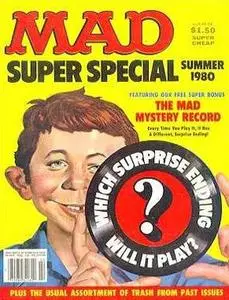 [MAD Magazine] It's A Super-Spectacular Day (Mad Super Special Summer 1980)
1979 | 7MB | **I don't have the magazine - just the audio record**
http://rapidshare.de/files/32632101/_MAD_Magazine__AUDIO_Super-Spectacular_Day.rar
Copywritten to 1979 but released with the 1980 Summer "Super Special", this
marvel of engineering would play a random ending with every spin of your
turntable thanks to the multiple grooves that it had allsmashedalongsideeachother.
Like tons of other looney kids, when this came out I was obsessively driven to hear
(and in my case, record) all eight endings, resulting in the song being lodged v-e-r-
y d-i-s-t-i-n-c-t-l-y in my head, no doubt for life. Playing all 8 MP3s in a row can
really only minimally replicate that experience (maybe if you do it about 70 times at
random before you allow the final version to complete you'll get close), but I guess
since time is so much more valuable these days than it was 26 years ago it's all for
the best.
previous posts:
MAD Magazine Collection