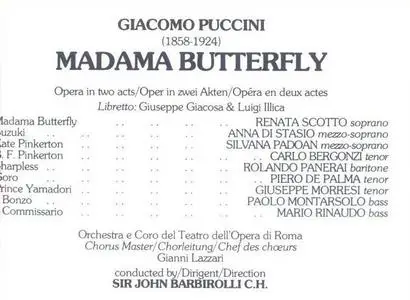 Puccini - Madama Butterfly |
| Genre: Opera | lossless flac | cover + libretto [La Fenice] | 6x95mb + 1x57mb |
Amazon reviews:
Forget about Callas (Karajan), de los Angeles (Santini), Freni (Karajan) and Tebaldi (Serafin). This recording with Scotto, Bergonzi and Barbirolli is not to be believed! It is the definitive recording of Madama Butterfly.
Scotto is the best Butterfly on record. She brings her incomparable artistry with her. You feel her as a human being with emotional depth (without overdoing things). Bergonzi proves himself the most stylish Italian tenor in the world. Barbirolli is a master at the score. Preferable to Karajan's Butterfly which is overrated.
Links:
http://www.ftp2share.com/file/16589/winter_pict.html
Files hosted at mihd.net
Please do not post the direct links!