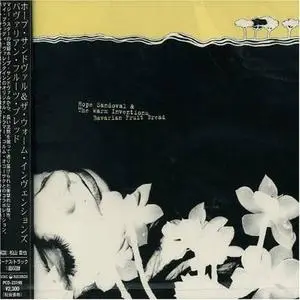 Rapidshare | Q: VBR HQ | Year: 2001 | Genre: Folk | Size: 80MB
Anyone familiar with
Mazzy Star
's ethereal, hypnotic music will find singer Hope Sandoval's debut album with the Warm Inventions a welcome return, with its haunting, spaced-out odes to melancholy. It's been five years since Mazzy Star's last album–the rich, evocative Among My Swan–and while Sandoval has appeared on records by
the Jesus and Mary Chain
and
the Chemical Brothers
, the At the Doorway Again EP, released at the end of 2000, was the Warm Inventions' first offering.
The band–half of which is Colm O'Ciosoig from
My Bloody Valentine
–favor altogether sparser songs, which suffer somewhat from the absence of David Roback's lush, entrancing slide guitar, which made Mazzy Star so beguiling. Nonetheless, there are delights to be had: Sandoval's voice continues to drip with ennui and a tripped-out nonchalance while the delicate, tinkling songs on display here are eerily romantic, employing soft, beautiful acoustic guitars and occasional strings. Highlights include the relatively upbeat
On the Low
, with its gentle swaying rhythm and occasional splashes of harmonica, and the dreamlike
Around My Smile
, which features an intoxicated Sandoval singing,
I've got it going on
.
Track Listings
1. Drop
2. Suzanne
3. Butterfly Mornings
4. On The Low
5. Baby Let Me
6. Feeling Of Gaze
7. Charlotte
8. Clear Day
9. Bavarian Fruit Bread
10. Around My Smile
11. Lose Me On The Way
12. Sparkly
Download here