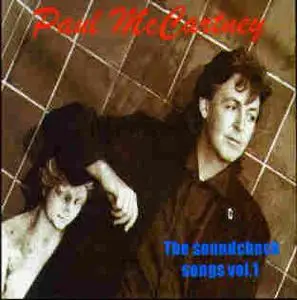 There's a myth going around that claims that several artits (my cup of tea would be Macca and U2) record EVERYTHING the play (rehearsals, soundchecks, you name it!) just in case they come across something worth to make into a song. Case in point: Pride (in the name of love) was born on such a soundcheck in Hawaii, and there's another Melbourne '98 souncheck where you can hear very clearly the genesis of what was to become Walk On.
And here we have some proof!
These songs, part of a 4 cd collection, were first heard on the famous Oobu Joobo radio series and are taken directly from the mixing console. There's something here for everyone: great Beatle versions, mocking Beatle versions (several of them), R'n'R standards, obscure B-sides Macca is so fond of, the list is endless.
People have accused Macca (and quite fairly I think, just look at his reactions on the Anthology DVDs and THEN on the Wingspan DVD) of being a workaholic and hard to deal with. May be true (and that might be part of the reason NO ONE came up or wanted to promote the idea for a tribute concert on his 64th birthday which is a big shame… not to mention he has been so busy thanx to his ex wife!), but these cds show what can happen when your band is red hot and the chemistry is floating all over the place.
Hope you enjoy these releases. All from soundboard, all in their full glory.
1. Biker Like An Icon (McCartney) 03:33
2. I Wanna Be Your Man (Lennon/McCartney) 02:33
3. We Can Work It Out (Lennon/McCartney) 02:30
4. They Call My Baby Baby (unknown) 04:03
5. C Moon (McCartney) 03:50
6. Put It There (McCartney) 02:34
7. It's Now Or Never (Gold/Schroeder) 01:49
8. Cumberland Gap (unknown) 01:23
9. Tutti Frutti (Penniman/LaBostrie/Lubin) 00:56
10. Ain't That A Shame (Domino/Bartholomew) 03:11
11. Back In The U.S.S.R. (Lennon / McCartney) 02:54
12. Be-Bop-A-Lula (Vincent/Davis) 03:37
13. Can't Buy Me Love (Lennon/McCartney) 02:10
14. We're Gonna Move (Presley/Matson) 01:29
15. We Got Married (McCartney) 03:45
16. Got To Get You Into My Life (Lennon/McCartney) 02:52
17. Blackbird (Lennon/McCartney) 01:06
18. Singing The Blues (Endsley) 02:48
19. Rock Island Line (Ledbetter/Lomax) 01:44
20. The Fool On The Hill (Lennon/McCartney) 04:17
21. Bring It On Home To Me (Cooke) 06:24
22. You Know You Are Such An Incredible Thing (McCartney) 04:33
23. Fixing A Hole (Lennon/McCartney) 02:47
24. I Lost My Little Girl (Lennon/McCartney) 01:15
25. Let It Be (Lennon/McCartney) 03:57
Links:
http://rapidshare.de/files/36242362/PMSS1.part1.rar
http://rapidshare.de/files/36193038/PMSS1.part2.rar
http://rapidshare.de/files/36183582/PMSS1.part3.rar
http://rapidshare.de/files/36176941/PMSS1.part4.rar
http://rapidshare.de/files/36172091/PMSS1.part5.rar
http://rapidshare.de/files/36242713/PMSS1_covers.rar
Pass if needed:
www.AvaxHome.ru
If you mirror, credit AVAX ok?
PS, i need to know if you guys want the other 3 volumes, ok?
Previous Beatle Related posts:
John Lennon - Your Daddy's Here
The Beatles - Reel To Real Sessions (1999)
The Beatles - As Nature Intended
The Beatles - Celuloid Rock
McCartney Ram (DTS audio CD)