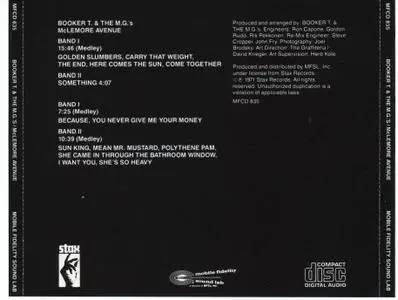 The Artists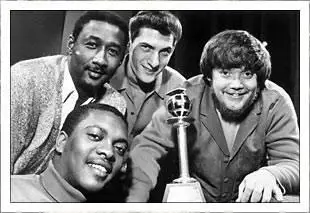 Booker T. & the M.G.'s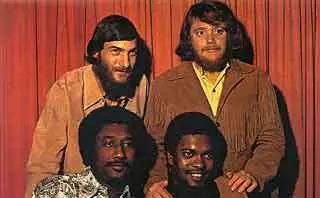 Booker T. & the M.G.'s is a soul band, most prominent in the 1960s and 1970s. They are most commonly associated with Stax Records and are often placed in the subgenre of Memphis soul. They are probably best known for their 1962 hit instrumental "Green Onions" and for being the "house band" for many Stax/Volt performers. As originators of the unique Stax sound, the group was one of the most prolific, respected and imitated of their era: By the mid-1960s, bands on both sides of the Atlantic were trying to sound like Booker T. & the MG's.
Core members of the group include Booker T. Jones (organ, piano), Steve Cropper (guitar), Donald "Duck" Dunn or Lewie Steinberg (bass), and Al Jackson Jr. (drums). Isaac Hayes, Carson Whitsett, and Willie Hall have also been part of the group.
Early years
In the summer of 1962, seventeen-year-old keyboardist Booker T. Jones, twenty-year-old guitarist Steve Cropper, bass player Lewie Steinberg and Al Jackson, a drummer making his debut with the company, were in the Memphis studio to back up former Sun Records star Billy Lee Riley. During downtime, the four started playing around with a bluesy little organ ditty reminiscent of Ray Charles. Jim Stewart, the president of Stax, liked what he heard and hit the record button. He liked the finished product enough to want to release it. Now, they just needed a B-side. Cropper remembered a riff that Jones had come up with weeks earlier and before long, they had a second song. The group, of course, now needed a name. Another Stax band featuring Jones, called The Triumphs, had succeeded with a regional hit called "Burnt Biscuits." Jackson suggested another car name, The MG's. Stax even contacted the automobile makers in an effort to somehow cross-promote each other, but according to legend, the car company did not want to be associated with such music. Everybody liked Jackson's name, so MG became "Memphis Group."
Stewart wanted to release the single with the first song, titled "Behave Yourself" as the A-side and the second song as the B-side.
Steve Cropper and radio disc jockeys thought otherwise, so soon, Stax released Booker T. & the MG's "Green Onions" backed with "Behave Yourself." It went to number one on the R&B charts and hit number three on the Pop charts. They soon after released an all-instrumental album entitled Green Onions.
Success
Over the next two years, Cropper, Jackson, Jones, and Steinberg, along with Cropper's bandmate from The Mar-Keys, bassist Donald "Duck" Dunn, as well as keyboardist Isaac Hayes and various horn players, would set the standard for soul music. Where the sign outside of Detroit's pop-soaked Motown Records aptly read "Hitsville U.S.A.," the marquee outside of the movie theatre where Stax was located proclaimed "Soulsville U.S.A."
Lewie Steinberg, a solid bass player from a family of musicians, recorded one more album with the band, 1965's Soul Dressing. Where the Green Onions album was cover-filled, every song but one on Soul Dressing was an original. Nevertheless, the chemistry — musically and personally — wasn't quite right. Steinberg stepped aside, and Dunn became the group's full-time bassist.
The line-up of Cropper, Dunn, Jackson, and Jones would go on to back up Otis Redding, Sam & Dave, Albert King, Johnnie Taylor, Eddie Floyd, The Staple Singers, and jumpstart Wilson Pickett's solo career. They played on and produced hundreds of records, including classics like "Walkin' the Dog," "Hold On! (I'm Coming)" (on which the multi-instrumentalist Jones played tuba over Dunn's bass line), "Soul Man," "Who's Making Love," "I've Been Loving You Too Long (To Stop Now)," and "Try a Little Tenderness," among others. They defined much of what was expected from soul music — especially "southern soul" — where "the groove" was most important, the lyrics sometimes being inconsequential.
As artists in their own right, they began to come together with 1967's Hip Hug-Her album. Surprisingly, "Hip Hug-Her" was the first single released with Jones playing a Hammond B-3 organ, the sound that made him a legend. They had hits with the title track, and also with their cover of The Rascals' "Groovin'".
Also in 1967, they joined the now famed Stax European tour. Dubbed "Hit the Road, Stax!" they performed and backed up the label's stars. In June of that year, they, along with Otis Redding, appeared at the Monterey Pop Festival, alongside musicians like Jimi Hendrix, Janis Joplin, The Who, and Jefferson Airplane. They were also later invited to play Woodstock, but Al Jackson was worried about the helicopter needed to deliver them to the site, and so they decided not to play.
The Hip Hug-Her album was followed by Doin' Our Thing and Soul Limbo. The song "Soul Limbo" was a hit (later used by BBC-TV as their Cricket theme), as was their now classic version of "Hang 'em High". And in 1969, they scored their second biggest hit with "Time is Tight", from the soundtrack to the movie Uptight.
In 1969, Duck Dunn and Booker T. Jones, in particular, had become enamored with The Beatles, especially their work on Abbey Road. The appreciation was mutual, as The Beatles had patterned a lot of what they did on the MG's. John Lennon was a huge Stax fan who fondly called the group, "Book a Table and the Maitre D's." As well, Paul McCartney, like Dunn, played bass melodically, without straying from the rhythm or the groove. It was obvious through each of their playing that they admired one another. And as the story goes, after being locked away in the Memphis studio, when the company embarked on the "Hit the Road, Stax!" tour of 1967, The Beatles sent limos to the airport and bent down to kiss Steve Cropper's ring. The MG's had no idea, until then, of the impact they were having on the rest of the world.
Jones, Dunn, and Jackson recorded McLemore Avenue, named for the street where Stax was located. Jones later taught Cropper, who had not heard Abbey Road, what to play. Released in 1970, the album stands on its own, while at the same time showcasing the Beatles' compositional strength. They covered thirteen of Abbey Road's songs, condensing twelve of them into medleys, and released a cover of George Harrison's "Something". The cover is indeed an intentional spinoff of The Beatles' Abbey Road "street crossing" album cover.
They followed up in 1971 with what would be their last single, "Melting Pot", and their last album, of the same name, featuring eight originals. The longest standalone track that the group ever recorded (at over eight minutes), "Melting Pot"'s repetative groove-oriented drumming and funky staccato guitar made it an underground hit in New York City's nascent gay disco scene; the song is frequently remixed to this day.
Before the Melting Pot album was recorded, Booker T. Jones had left Stax and, in fact, part of the album was recorded in New York, not the Stax studio. Also becoming unhappy with new business affairs at Stax was Steve Cropper and shortly after, he would also leave. Dunn and Jackson remained on and did session and production work. Jackson, who had been in Hi Records producer Willie Mitchell's band, played on and wrote many of Al Green's biggest hits.
In 1973, Dunn and Stax session guitarist Bobby Manuel recruited B-3 organ phenomenon Carson Whitsett to be part of a band that was to back up a promising new Stax artist named Stefan Anderson. Their drummer was not working out, so they brought in Al Jackson. The project, however, did not ultimately yield any results, but the rehearsals were promising, prompting Jackson and Dunn to reform the
MG's.
The 1973 album entitled The MG's, with Manuel and Whitsett replacing Cropper and Jones, was not commercially successful, and it did not have a song that became a single. Carson Whitsett would go on to back up the Bobby Blue Bland, Little Milton, and Kathy Mattea, and have his songs recorded by the likes of Johnnie Taylor, Solomon Burke, B.B. King, Etta James, Conway Twitty, and Lorrie Morgan. Bobby Manuel would become a staple of the Memphis music scene and later founded HighStacks Records in a tribute to Stax and Hi Records.
After a promising meeting in late September 1975, Jones and Cropper (who were now living in Los Angeles) and Jackson and Dunn (still in Memphis), decided to give each other three months to finish up all of their projects. They would then devote three years to Booker T. & the MG's. Nine days later, on October 1st, Al Jackson, the drummer who had been a key to the sounds of both Stax and Hi Records, was murdered in his home.
Later career
Over the next decade, all three remaining members remained very active, producing, writing, and playing with other artists. In 1986, former co-owner of Atlantic Records Jerry Wexler (who was in the studio when the MG's cut Cropper's and Wilson Pickett's "In the Midnight Hour") asked the group to be the "house band" for Atlantic Records' 40th anniversary. The night before, Booker T. Jones came down with food poisoning, so Paul Shaffer stepped in at the last minute. The rehearsals with Jones, Cropper, and Dunn, along with the powerhouse drummer Anton Fig (of Shaffer's Late Show with David Letterman band), went so well that the group decided to play some dates together.
Over the next few years, they played together occasionally, and in 1992, Bob Dylan asked them to again serve as house band at the concert commemorating his thirty years in the music business. There, they backed up Dylan, Stevie Wonder, Johnny Cash, Eric Clapton, and even Pearl Jam's Eddie Vedder, showing they could still be anyone's band. While there, Neil Young asked the group to back him up on his world tour the following year.
Also in 1992, the MG's were inducted into the Rock and Roll Hall of Fame. In 1995, when the Rock and Roll Hall Of Fame opened its museum in Cleveland, Ohio, the MG's served as the house band once more, playing behind Aretha Franklin, Sam Moore, John Fogerty, and Al Green, as well as performing themselves.
Booker T. Jones, Donald "Duck" Dunn, and Steve Cropper moved into the 21st century as active as ever. Jones, Dunn, and Al Jackson's cousin, drummer Steve Potts supplied the music for Neil Young's 2002 album Are You Passionate?. Cropper, along with Isaac Hayes and Sam Moore, welcomed Stax president Jim Stewart into the Rock and Roll Hall of Fame in 2002. The MG's, usually with Steve Potts, still play select dates. The three remaining members still play their classic instrumentals.
The Album
The greatest band in America took on the greatest band in England, and the boys from Memphis held their own. This is a very cutting edge and ahead of its time (think Pink Floyd, Metallica) album. The Beatles and The MGs' influence and superiority on and over the future of music are clearly evident here. Some may not consider it an essential MGs album, because by covering Abbey Road, it doesn't feature original material. However, hearing the Stax Records house band burn through these great compositions is an amazing experience.
Al Jackson does things that the wonderful Ringo Starr could never imagine. Duck Dunn does the Paul McCartney thing better than Paul McCartney. And Steve Cropper never even heard Abbey Road! Booker T. Jones taught him what to play! Another testament to these two men's greatness. How could you do The Beatles without lyrics? Only one band could. When the MGs got their hands on anything, including the material here, one quickly forgets and doesn't need anything but the music. The whole band is in peak form. They bring their Stax soul/funk to the table and also, show themselves as world class musicians as on their both beautiful and barn storming cover of "Something". And In The End, McLemore Avenue equals or arguably betters Abbey Road.
Let it never be said that Booker T. and the MG's were conceptually timid. McLEMORE AVENUE, released in 1970, is a tribute to/cover of the Beatles' ABBEY ROAD, right down to the cover art featuring the MG's crossing McLemore Ave. (the location of Stax Studios) in the fashion of John, Paul, George and Ringo. The MG's recording takes tracks from the Beatles original (only "Maxwell's Silver Hammer," "Oh Darling!" and "Octopus's Garden" are absent), rearranges and threads them together in three distinct medleys. The treatments are generally faithful to the originals, though the occasional stylistic deviation, such as the lounge boogie of "Here Comes the Sun," keeps things interesting. The band fares best on the funkier numbers such as "I Want You" and "Come Together," while Booker T.'s keyboards nicely round out the "orchestral" feel of songs such as "Sun King." Thirty years of Beatles covers in elevators and department stores the world over may have made it difficult to listen to instrumental versions of "Something" without cringing, but the playing here is outstanding as always, and the disc/concept remains of interest to Beatles collectors and serious MG's fans alike.
Tracks:
1. Medley: Golden Slumbers/Carry That Weight/The End/Here Comes The Sun/Come Together
2. Something
3. Medley: Because/You Never Give Me Your Money
4. Medley: Sun King/Mean Mr. Mustard/Polythene Pam/She Came In Through The Bathroom Window/I Want You (She's So Heavy)
Listen! You can hear a difference! Enjoy it!
DOWNLOAD RAPIDSHARE LINKS (covers included), rar files (3% recovery)
(You need FEURIO,NERO, Alcohol or EAC to burn image files to music CD; load CUE file)
Downl...Avenue part 1 (95.3 MB)
Downl...Avenue part 2 (95.3 MB)
Downl...Avenue part 3 (58.0 MB)
Password :
www.AvaxHome.ru
RapidGet Friendly
http://rapidshare.de/files/24832223/BTMGMAmfsl.part1.rar
http://rapidshare.de/files/24832084/BTMGMAmfsl.part2.rar
http://rapidshare.de/files/24826571/BTMGMAmfsl.part3.rar
You are welcome to download From OxyShare:
http://www.oxyshare.com/get/27224429844aa76b95876b0.91987534/BTMGMAmfsl.part1.rar.html
http://www.oxyshare.com/get/192131821144aa76b9620424.81174328/BTMGMAmfsl.part2.rar.html
http://www.oxyshare.com/get/121527365344aa76b9663366.64152396/BTMGMAmfsl.part3.rar.html
MANY THANKS to Binbonbeach for the tutorials, and ALL uploaders for the wonderful shares