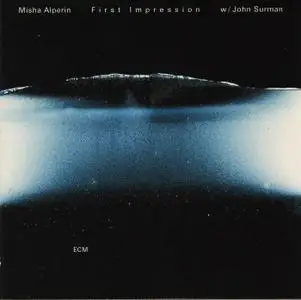 Misha Alperin, John Surman - First Impression (1999)
Jazz
WAV (separate) | 100*2+29.06 MB
MP3 | 320 kbps | 60.00 + 43.95 MB
"First impression" is indeed the first recorded encounter between Misha Alperin, the Ukrainian pianist and composer, and the great John Surman, who's time has clearly, finally, come. Surman was a last-minute addition to the group, which also features one of the key jazz drummers of the last 20 years, Jon Christensen, as well as the flugel horn and french horn virtuoso Arkady Shilkloper, Terje Gewelt (bs.) and Hans-Kristian Kjos Sørensen (perc.). The music here, composed by Alperin though featuring much spontaneous exploration by the group, could be seen to be rooted in Northern European and Eastern folk forms (Moldavian music an inspiration for Alperin; traditional British for Surman), which again provides the soul that many of ECM's narrow-minded critics find difficult to perceive. These themes are developed throughout vital ensemble pieces, which are in turn counterbalanced by Alperin's delicate solo piano renditions. Here we find evidence of a classical pianist discovering jazz rather late in his development, and all these influences gracefully coalesce in his work. For Alperin though, there is one almost universal music: "All folk music belongs to the same family, and I wish to break down barriers and borders not only geographically, but also historically." Sections of First Impression remind this writer of Eberhard Weber's beautiful "Later That Evening", particularly the freer movements of that work where Paul McCandless and Michael DiPasqua (where are they now?) would build tension before Weber's bassline or Mays' romanticism would provide release. Here John Surman and Jon Christensen often work together in similar fashion, with Alperin carefully augmenting and directing their investigations. Surman and Christensen's understanding is well developed of course, stemming from their time in Miroslav Vitous' group and countless subsequent encounters. Indeed this band works together extremely well, interpreting Alperin's compositions with skill, imagination, and (Eastern and Northern) soul.
- dan hill, sonomu.net
Tracks:
1. Overture
2. First Impression
3. Second Impression
4. Twilight Hour
5. City Dance
6. Movement
7. Third Impression
8. Fourth Impression
9. Fifth Impression