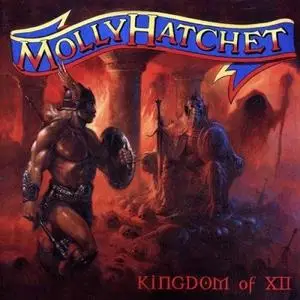 Molly Hatchet - Kingdom Of XII
APE+CUE+LOG or MP3 CBR 320 | 57:40 min | 411 or 136 MB
Genre: Hard Rock / Southern Rock
Skeptics who listen to Molly Hatchet's album Kingdom of XII are in for a big surprise: The album is quite good. The band always went through dizzying personnel changes, and there isn't one original member of the band left here. However, that's not important to fans, because Molly Hatchet is an entity more than a vehicle for specific personalities. Lyrically, Kingdom of XII gives props to its core audience: bikers, veterans, blue-collar workers and residents of Dixie. Musically, Molly Hatchet always represented the hard rock side of Southern rock, and many songs on Kingdom of XII illustrate this. The band is led by two longtime members – lead guitarist Bobby Ingram and keyboardist John Galvin – and vocalist Phil McCormack is a dead ringer sonically for original growler Danny Joe Brown. That's not a criticism of McCormack, either. It's important to pull off old classics live, but he's also Ingram's main songwriting partner. "Why Won't You Take Me Home" has an infectious pop/honky tonk groove. "Gypsy Trail" and "White Lightning" are shots of hard-rocking boogie, and guest Charlie Daniels adds some wicked fiddle licks. A pounding, respectful cover of the Rolling Stones' "Tumbling Dice" is fun. "Angel in Dixie" has more of a country flavor than the rest of the songs here. Molly Hatchet is at its most exciting when the guitarists jam their brains out, therefore, the three epics on Kingdom of XII are the highlights. "One Last Ride" features strong vocals and lyrics from McCormack, but the blowout guitar riffing at the end is terrific. The dramatic keyboards in "Dreams of Life" add depth to the guitar bombast. Ingram and Galvin were once part of Brown's band and the fantastic "Edge of Sundown" is an acoustic version of a song from Brown's 1981 solo album.
Tracklist:
01. Heart Of The U.S.A.
02. Cornbread Mafia
03. One Last Ride
04. Why Won't You Take Me Home
05. Turn My Back On Yesterday
06. Gypsy Trail
07. White Lightning
08. Tumbling Dice
09. Angel In Dixie
10. Kickstart To Freedom
11. Dreams Of Life
12. Edge Of Sundown (Unplugged)
Отчёт EAC об извлечении, выполненном 11. октября 2007, 17:44 для диска:
Molly Hatchet / Kingdom Of XII

Дисковод: _NEC DVD_RW ND-4571A Adapter: 0 ID: 1
Режим чтения: Достоверный (C2: нет, Точный поток: да, Отключение кэша: да)
Коррекция смещения при чтении: 48
Способность читать области Lead-in и Lead-out : Нет

Выходной формат: Внутренние WAV-операции
44.100 Гц; 16 бит; стерео

Другие параметры:
Заполнение пропущенных сэмплов тишиной : Да
Удаление блоков с тишиной в начале и конце : Нет
Установленный внешний ASPI-интерфейс


Характеристики диапазона извлечения и сообщения об ошибках
Выбранный диапазон
Имя файла C:\Molly Hatchet - Kingdom Of XII.wav

Пиковый уровень 100.0 %
Качество диапазона 100.0 %
CRC E404D86F
Копирование… OK

Ошибок не произошло

Конец отчёта

all tracks accurately ripped
Produced by Bobby Ingram. Engineered by Nikolo Kotzev
Recorded at Karo Studios, Brackel, Germany
• Phil McCormack - vocals, harmonica
• Bobby Ingram - acoustic & electric guitars, background vocals
• John Galvin - keyboards, background vocals
• Bryan Bassett - guitar
• Andy McKinney - bass, background vocals
• Sean Shannon - drums, percussion
Additional personnel: Charlie Daniels, Julie Worland, Rolf Kohler, Agneta Kjorsvik
In 2000, the album The Kingdom Of XII was released in Europe. It was released in the United States in 2001.
Release Date: August 22, 2000
Label: Steamhammer
Catalog No.: SPV 085-72062