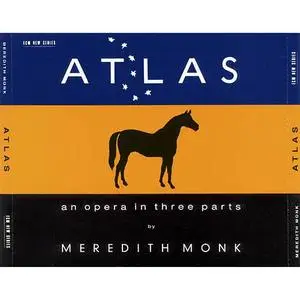 Meredith Monk: Atlas (An Opera in Three Parts)
Classical | EAC (APE & CUE) | ECM (1993) | 2 CD / 6 parts / 521 MB
In the annals of modernist performance, the idea of representation is transfigured through the body in space as it becomes shaped by theatrical expression. This persistent though often overlooked theme of theatrical modernism, extending from its beginnings in Symbolism to our own turn-of-century, is at the core of Meredith Monk's oeuvre, and nowhere is this more evident than in her first full-scale opera,
Atlas
. In
Atlas
, the familiar boundary lines of operatic narrative are dissolved. Her musical sections, often based on the simplest diatonic or modal harmonies, depend largely on their constructions of vocal techniques that encompass glottal effects, ululation, yodeling, speech song, animal sounds, and vocalization. Thus, powered by unconventional inventions, each new component of the drama takes on a particular color and character of its own.
Meredith Monk
Atlas: An Opera in Three Parts
(1993)
ECM 1491/92
Recorded June 1992
_________________
CD 1
Part I: Personal Climate
1. Overture (Out of Body 1) 3'07
2. Travel Dream Song 5'07
3. Home Scene 2'38
4. Future Quest (The Call) 11'15
5. Rite of Passage A 0'57
6. Choosing Companions 7'44
7. Airport 9'19
Part II: Night Travel
8. Night Travel 3'14
9. Guides' Dance 1'51
10. Agricultural Community 14'36
_________________
CD 2
1. Loss Song 4'14
2. Campfire/Hungry Ghost 7'43
3. Father's Hope 1'43
4. Ice Demons 6'20
5. Explorer #5/Lesson/Explorer's Procession 6'04
6. Lonely Spirit 3'33
7. Forest Questions 10'19
8. Desert Tango 7'52
9. Treachery (Temptation) 2'11
10. Possibility of Destruction 2'46
Part III: Invisible Light
11. Out of Body 2 2'58
12. Other Worlds Revealed 1'28
13. Explorers' Junctures 2'42
14. Earth Seen From Above 7'34
15. Rite of Passage B 1'42
_________________
The Ensemble:
Carlos Arévalo, Thomas Bogdan, Victoria Boomsma, Janis Brenner, Shi-Zheng Chen, Allison Easter, Robert Een, Dina Emerson, Emily Eyre, Katie Geissinger, Ching Gonzales, Dana Hanchard, Wendy Hill, Stephen Kalm, Meredith Monk, Robert Osborne, Wilbur Pauley, Randall K. Wong
The Orchestra:
Susan Iadone and Darryl Kubian, violin
Kathleen Carroll, viola
Anthony Pirollo and Arthur J. Fiacco, Jr., cello
John Cipolla, clarinet, Bass clarinet
Wayne Hankin, shawn, sheng, recorder
James F. Wilson, french horn
Cynthi Powell and Steve Lockwood, keyboards
Thad Wheeler, percussion
Bill Hayes, glass harmonica