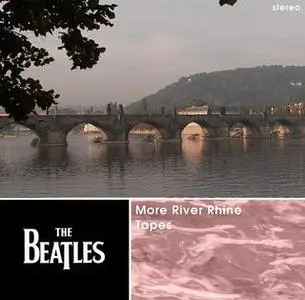 More River Rhine Tapes (Bootleg) (1969)
Rock | FLAC | 452 Mb | Covers
Here is the next set from the Let it be Sessions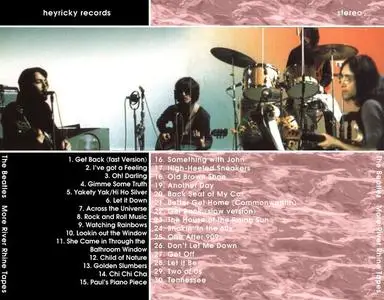 Here is the second part of The Rhine River set.
Sometimes you'll notice some bips on track. This can be annoying for some, but it is as is. Remember it was rehearsals, and in the same time time there was a film all along. The Nagra tapes were there to help in synchronysing the the rolls between different cameras.
You will hear two Get Back versions out of many many that they tried.
Also you'll hear some originals post Beatles songs as well as some songs later released on Abbey Road.
John's Child of nature that will end as "Jealous guy"
Paul's Another Day & Back Seat of My Car
George's Let it Down & Something
Also to add some controversy, the song "Commonwealth" which finally gave "Get Back".
What is particulary interesting is despite, the diversity of interests of each member that they succeeded in putting many songs together. In fact they were too creative to bring an album with all the titles they made. Paul is trying over all to put things corerctly, John sacarstic in most of his tune and especially in Paul's one, George trying to bring attention to his tunes.
George at the end of the month, brought Billy Preston to end the mess they were in, as more and more the rehearsals ended in jamming ("Get off")
Tracklist
:
01 Get Back (Fast Version) [2:05]
02 I got a Feeling [3:26]
03 Oh Darling [1:51]
04 Gimme Some truth [0:42]
05 Yakety YakHigh Ho Silver [2:09]
06 Let it Down [1:13]
07 Across the Universe [2:41]
08 Rock and Roll Music [1:53]
09 Watching Rainbows [2:41]
10 Lookin out the Window [0:54]
11 She Came in Through the Bathroom Window [2:53]
12 Child of Nature [1:35]
13 Golden Slumbers [2:25]
14 Chi Chi Cha [1:45]
15 Pauls Piano Piece [1:55]
16 Something [1:22]
17 High Heeled Sneakers [2:34]
18 Old Brown Shoe [2:47]
19 Another Day [0:44]
20 Back Seat of My Car [1:19]
21 Commonwealth [3:36]
22 Get Back (slow version) [4:34]
23 House of rising sun [2:54]
23 The house of the Rising Sun [2:54]
24 Shake in sixties [0:41]
24 Shakin in the 60s [0:41]
25 One After 909 [1:07]
26 Dont let me down [3:33]
27 Get off [5:58]
28 Let it be [2:38]
29 Two of us [2:00]
30 Tennessee [2:01]
The Album is located somewhere in :
http://rapidshare.de/files/20708446/-_MoreTapes_-.part1.rar
95.78 MB
http://rapidshare.de/files/20711567/-_MoreTapes_-.part2.rar
95.78 MB
http://rapidshare.de/files/20906433/-_MoreTapes_-.part3.rar
95.78 MB
http://rapidshare.de/files/20907650/-_MoreTapes_-.part4.rar
95.78 MB
http://rapidshare.de/files/20908770/-_MoreTapes_-.part5.rar
69.52 MB
The key to all those files is :
-=More Beatles River Rhine=-