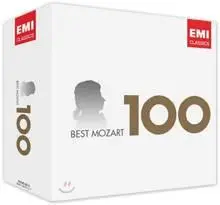 W.A. Mozart | 2005 | Genre: Classical
APE 1411 kbps | 44100 HZ Stereo | 1.79 GB
The ''BEST 100'' compilation series has been a smashing success with over half a million sales to date. Now EMI is celebrating the musical hits of the greatest and most loved composer of all time - Wolfgang Amadeus Mozart. This superb value for money collection features the top 100 tracks (spread over six CDs) made popular over the years. Released in anticipation of the 250th anniversary of Mozart's birth in 2006.
Tracklist:
Disc 1
1. Symphony No.40 in G minor K550
2. Clarinet Concerto in A K622
3. Symphony No.25 in G minor K183
4. Piano Concerto No.21 in C K467
5. Symphony No.35 in D 'Haffner' K385
6. Violin Concerto No.3 in G K216
7. Divertimento in D K334
8. Symphony No.41 in C 'Jupiter' K551
9. Piano Concerto No.23 in A K488
10. Horn Concerto No.4 in E flat K495
11. Concerto for flute and harp in C K299
12. Sinfonia Concertante for violin and viola in E flat K364
Disk 2
1. Le nozze di Figaro (Da Ponte) K492
2. Così fan tutte (Da Ponte) K588
3. Don Giovanni (Da Ponte) K527
Disk 3
1. Der Schauspieldirektor – Overture K486
2. Idomeneo (Varesco)
3. Die Entführung aus dem Serail (Stephanie) K384
4. Die Zauberflöte (Schikaneder) K620
5. O du eselhafter Martin K560
6. Bona nox, bist a rechta Ox K561
7. Essen und trinken K234
Disk 4
1. Piano Sonata in A
2. Serenade for 13 wind instruments in B flat 'Gran Partita' K361
6. Das Butterbrot
7. Violin Sonata in E minor K304
8. Variations on 'Ah, vous dirais - je, maman' in C K265
9. Serenade in G 'Eine kleine Nachtmusik' K525
10. Die Schlittenfahrt K605 No.3
11. Fantasie in D minor K397
12. Divertimento for string trio in E flat 'Puchberg' K563
13. Masonic Funeral Music K477
14. Piano Sonata in C K545
Disk 5
1. Sonata for two pianos in D K448
2. Clarinet Quintet in A K581
3. Serenade for wind instruments in C minor K388
4. Flute Quartet No.2 in G K285a
5. Quintet for piano, oboe, clarinet, horn and bassoon in E flat K452
6. Duo for violin and viola in G K423
7. Piano Sonata in A minor K310
8. String Quartet No.17 in B flat 'The Hunt' K458
9. Oboe Quartet in F K370
10. Piano Concerto No.26 in D 'Coronation Concerto' K537
11. Violin Concerto No.5 in A K219
12. Minuet in D K355
13. Serenade for wind instruments in E flat K375
14. Eine musikalische Spaß in F K522
Disk 6
1. Requiem in D minor (ed. Beyer) K626
2. Laudate Dominum (Vesperae solennes de confessore) K339
3. Ave verum corpus K618
4. Agnus Dei (Litaniae Laurentanae) K195
5. Mass in C minor K427
6. Mass in C K317
7. Exsultate, jubilate K165
8. Regina coeli K127
9. Sancta Maria, mater Dei K273
10. Betracht dies Herz K42
11. An die Freundschaft K148
12. Die Zauberflöte K620