MUSE - ABSOLUTION TOUR 2004
Royaume-Uni , 2004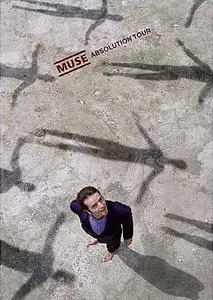 Synopsis :
Ce DVD livre les meilleurs moments des 18 mois de la tournée Absolution : la prestation du groupe en tête d'affiche du festival de Glastonbury en juin 2004, des titres bonus filmés à Londres (2 soirées historiques à Earl's Court) et pendant la tournée américaine, + bonus caché - 2 titres filmés à Wembley.
From their Main Stage performance at Reading in 2002 through to an incendiary performance on Glastonbury's Main Stage in 2004, Muse cemented their position as one of the UK's leading live acts. This DVD compiles the highlights from the 18-month long Absolution Tour and includes footage from their triumphant two night stand at London's Earls Court along with some of the best moments from the band's US tour.
Titre Original…….: MUSE - Absolution Tour
Editeur…………..: Warner Vision
Durée…………….: 85 mn
Sortie Vente DVD…..: Décembre 2005
Video…………….: Pal 16/9
Audio…………….: L-PCM STEREO
Support…………..: DVDR 4,7 Go
DVD VIDEO
Titres :
1. Hysteria
2. New Born
3. Sing For Absolution
4. Muscle Museum
5. Apocalypse Please
6. Ruled By Secrecy
7. Sunburn
8. Butterflies & Hurricanes
9. Bliss
10. Time Is Running Out
11. Plug In Baby
12. Blackout
Bonus :
- Fury (Los Angeles)
- The Small Print (Earl's Court)
- Stockholm Syndrome (Earl's Court)
- The Groove In The States (Cincinnati / San Diego)
Bonus cachés / Hidden bonus tracks :
(read nfo)
2 titres filmés à Wembley :
- Thoughts Of A Dying Atheist
- Endlessly