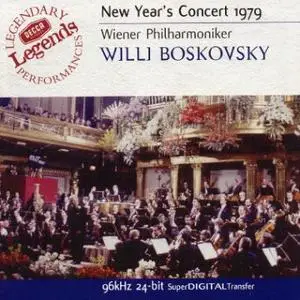 Wiener Philharmoniker Neujahrkonzert 1979
DECCA legendary performances
96 kHz 24-bit SuperDIGITALTransfer
Director: Willy Boskovsky
This is a digitally remastered version of 1979 record. It was remastered by Decca audio-engineers in 2001. I've got some amazing technical specifications considering the original record. I hope you may take an interest.
Recording location: Grosser Musikvereinsaal, Viena, 1 January 1979
Mixing Desk: STORM
Microphones: Schoeps MK2, MK4, MK41
Monitor Speakers: Tannoy "Canterbury"
Monitor Amplifiers: Quad 303
Recording (tape) machines: DECCA Digital
STORM (meaning Stereo or Mono)
Desined and built by Roy Wallace, it came into service in 1966. Each unit of STORM comrised 6 channels, each channel fully pannable L to R with high frequency and loq frequency equalisation and group faders. 4 units each of 6 channels were used to obtain a maximum of 24 channels with simultaneous 2 track and 4 track working. STORM was later modified to any channel to any group to any track (more versatile), able to be used for simultaneous 2 and 8 track recordings. 4 sets of STORM were eventually in use with DECCA for many years (1966-1986)
and here are covers of original 1979 release
So, lets start dowloading. Mp3-320 k/bs archive consists of two parts (97 MB and 63 MB) you can download them from
Attention: Neujahrkonzerts of 1987, 1989, 1990, 1992, 2001, 2004, 2006 are coming soon!!