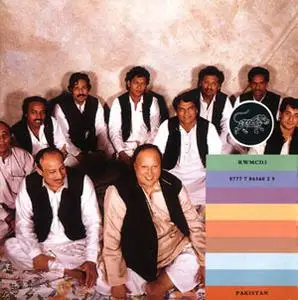 GENRE: World Music | LABEL: REALWORLD
BITRATE: LAME 3.96 VBR HQ/192-320kbps/Stereo/44.1Hz | SIZE: 83,6 MB
Rapidshare | Cover, Booklet & Stamp Included in 300dpi
The companion CD to Nusrat's set of Devotional Songs –both recorded in 1988– Features the ghazal, a kind of love song. The name ghazal derives from the Arabic for "to converse with women." Originally, ghazals were sung in the language of Persia, Urdu, but the form has become a staple throughout much of Asia and the Middle East and is now sung in many languages. Love songs in this part of the world can often be seen as thinly disguised religious songs, but some of the lyrics here are unabashedly secular: "She is boldly unveiling in front of everyone and I am cowardly concealing." Musically, too, the feeling here is lighter. The melodies are lyrical, the improvisation relatively restrained. As in the devotional song session, the musical backing expands beyond the standard harmonium and tablas to include plucked strings, acoustic guitar, and mandolin. These provide occasional melodies, but more often fall back into the meld of tones and textures that support what is first and foremost vocal music. Despite the short song lengths –all under eight minutes– and the romantic moods, this set does still pack the trademark Nusrat punch. "Bibi Sada Dil Morr De," a contemporary composition, is dark and moody. "Sanson Ki Mala Pey," a Pujabi song, begins gently like a waltz, but Nusrat quickly moves to spitfire scat singing ratcheting up the spiritual energy before easing into languid, flowing melodies. In love as in religion, Nusrat proves a heavyweight.
Banning Eyre
.
Download:
Part 1
Part 2
Part 3
Part 4
Part 5
Part 6
Password:
audiobuff