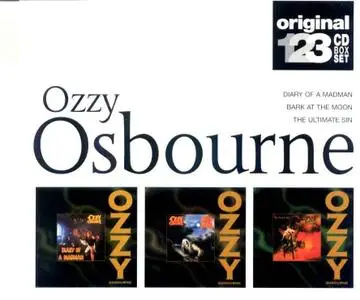 Ozzy Osbourne - 123 (2004 Box Set)
Original Recordings + Scans | mp3 192 VBR | 179 MB
Genre: Rock | Style: Heavy Metal
A great deal - IF you can find it
October 4, 2003
It's the new millennium. Ozzy Osbourne has become unstable in recent years - and is re-recording and remixing his classic albums - and making these godawful mixes the READILY AVAILABLE editions of the albums! Fortunately, before production of the good ol' 1995 remasters stopped, the record company came up with a genius idea - a box set, containing three of Ozzy's classic albums - For the price of just two! YES, THESE ARE THE ORIGINAL VERSIONS! The cover art is a dead giveaway (these have the shrunken art with the color borders and OZZY written down the side.) Read on for a few comments on each album.
DIARY OF A MADMAN
This one got re-recorded in recent years. This is the last album to feature Randy Rhoads before his unfortunate plane crash that would send him to rock and roll heaven. The Ozzy classics Flying High Again and Over The Mountain are here for your listening pleasure. Plus, you get underrated gems like S.A.T.O., Little Dolls, and the title track. This is one of Ozzy's finest!
BARK AT THE MOON
This one got remixed in recent years. For this album, Ozzy recruited future Badlands guitarist Jake E. Lee. In addition, Tommy Aldridge and Rudy Sarzo, both later with Whitesnake, plays the drums and bass, respectively. This album does sound quite a bit different from the previous two (this is the one that began Ozzy's trend of keyboard usage.) The title track has become one of Ozzy's biggest hits - but the underrated gems like Centre Of Eternity and Waiting For Darkness are the main attraction. There are a few fillers, but for the most part, each track is enjoyable. This remaster features a bonus track - Spiders (In The Night.)
THE ULTIMATE SIN
Ozzy
HATES
this album, so it never got the "demastering" treatment. But now it's out of print in ALL forms! Shot In The Dark - one of Ozzy's biggest and best hits - is now HATED by its once proud creator - and now EVERYTHING BY OZZY THAT HAS THIS TRACK ON IT IS OUT OF PRINT! This album is NOT GLAM METAL, contrary to what people say - it's melodic hard rock. Tracks like Secret Loser, Never Know Why, and the epic Killer Of Giants make this an excellent album - even if some people disagree.
OVERALL
Since ALL of these albums are now out of print in favor of the demasters, GET THIS SET IF YOU FIND IT! These "good" versions of the album won't be around much longer, so get 'em while there's still time!
-
Darth Kommissar
, Las Vegas, NV
Disc 1
Diary Of A Madman
1981
1. Over The Mountain 4.31
2. Flying High Again 4.44
3. You Can't Kill Rock And Roll 6.59
4. Believer 5.17
5. Little Dolls 5.39
6. Tonight 5.50
7. S.A.T.O. 4.07
8. Diary Of A Madman 6.15
Album by Ozzy Osbourne
Released November 7, 1981 & August 22, 1995 (re-issue)
Recorded 1981
Genre Heavy Metal
Length 43:22
Label Jet/Epic Records
Producer(s) Max Norman, Ozzy Osbourne, Randy Rhoads
Released on November 7, 1981. It was re-issued on August 22, 1995 and an altered version appeared in 2001. This is the last album with Randy Rhoads before his death in 1982. Although Tommy Aldridge and Rudy Sarzo are credited in the liner notes and pictured on the inner sleeve, it was Bob Daisley and Lee Kerslake who performed all bass and drum parts on the original release.
Personnel
Ozzy Osbourne - Vocals, Producer, Harmony Vocals
Randy Rhoads - Guitar, Producer
Bob Daisley - Bass, Gong, Guitar (Bass), Vocals, Producer, Harmony Vocals
Lee Kerslake - Percussion, Drums, Bells, Producer, Tympani
Max Norman - Engineer
Johnny Cook - Keyboards
Disc 2
Bark At The Moon
1983
1. Bark At The Moon 4.17
2. You're No Different 5.02
3. Now You See It (Now You Don't) 5.05
4. Rock 'N' Roll Rebel 5.28
5. Centre Of Eternity 5.24
6. So Tired 3.59
7. Slow Down 4.18
8. Waiting For Darkness 5.14
9. Spiders In The Night 4.21
Released in December 10, 1983. This album features former Ratt and Rough Cutt guitarist Jake E. Lee. This was one of the first metal albums to incorporate a lot of synths. The title track has appeared in games such as Grand Theft Auto: Vice City and Guitar Hero.
Credits
Ozzy Osbourne - vocals
Jake E. Lee - guitar
Bob Daisley - bass
Tommy Aldridge - drums
Don Airey - keyboards
Disc 3
The Ultimate Sin
1986
1. The Ultimate Sin 3.43
2. Secret Loser 4.08
3. Never Know Why 4.27
4. Thank God For The Bomb 3.53
5. Never 4.20
6. Lightning Strikes 5.13
7. Killer Of Giants 5.41
8. Fool Like You 5.18
9. Shot In The Dark 4.16
Released on February 22, 1986 and it was re-issued on August 22, 1995. This album was certified double platinum on October 26, 1994. This album also features former Ratt and Rough Cutt guitarist Jake E. Lee. Bassist was Phil Soussan, who also wrote the album's US hit single "Shot in the Dark". This was the first Ozzy Osbourne album to feature drummer Randy Castillo, who has since died due to cancer. Lyrics were largely written by long-time Ozzy bass player Bob Daisley. Although it was Ozzy's highest charting studio album it was not a good long term seller. Both Soussan and Daisley have law suits pending for unpaid royalties on this and other albums. The 1995 remastered CD version of the album does not include any bonus tracks.
Personnel
Ozzy Osbourne - vocals
Jake E. Lee - guitar
Phil Soussan - bass
Randy Castillo - drums
Additional musician:
Mike Moran - keyboards
Download
mp3 VBR / 179 MB
part1
part2
part3
part4
RAR + 3% recovery record
Password:
uriah heep