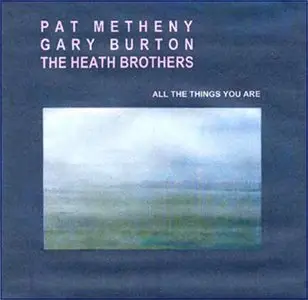 Pat Metheny, Gary Burton, The Heath Brothers-All The Things You Are
Jazz | 1999 | MP3 320Kbps¬181 MB | Time 1:14:30 | Front Covers
This CD contains some interesting material not found elsewhere. Recorded live at Palace of Festivals Theatre in Cannes, France in January 1981 and January 1983, the disc features Metheny, Gary Burton, the Heath Brothers, Ahmad Jamal, and the Hum Trio. It is very hard to find and available only on the Fruit Tree (Italy) label (1999). Highly recommended, this CD will be irrestible to fans of quartet-format jazz or any of the artists, who seem to have been captured at their best.
Tracks:
*01.- Instrumental
*02.- A Sassy Samba
*03.- Artherdoc Blues
*04.- Move to the Groove
*05.- All the Things You Are
*06.- Tones for Joan's Bones
*07.- Autumn Leaves
*08.- My Foolish Heart
*09.- No More Blues
*10.- This Night Has a Thousand Eyes
*11.- African Flower
Personnel:
*Pat Metheny: Synthesizer, Guitar, Main Performer
*Gary Burton: Xylophone, Performer
*Sabu Adeyola: Bass, Performer
*Percy Heath: Bass
*Albert "Tootie" Heath: Drums
*Heath Brothers: Performer
*Jimmy Heath: Saxophone
*Ahmad Jamal: Piano, Performer
*Pierre Michelot: Bass
*Daniel Humair: Guitar
*René Urtreger: Drums
*Payton Crossley: Drums, Performer
Enjoy }i{