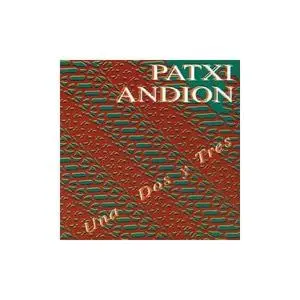 Patxi Andión - This album is a kind of best of (1995)
Genre: Protest song | MP3 | 320 Kbps | 55:44 min | 135 Mb
A anarchist spanish singer of the 60' with a great song 20 Aniversario
Sorry for any error but this is my first post.
Translated by babelfish
Original:
http://members.aol.com/musica60/index.html
Patxi Andion in 1969 makes its first record work as solista and they appear "Cantoi" and "LA Jacinta". But late its musical work brought "Rogelio" and finally their LP "Imagens" serves to be consecrated. It was not limited in being a regional singer, because it looked for to occur to know in all Spain and to happen to become a representative of that youth that appeared with one more a agreed ideology with the time.
In its letters the presence of vagabonds is appraised, drunkards, prostitutas, crazy people and all that mass of the town that is ignored by many composers almost always. Its voice, with the accent of the Basque Country, where it was born the 6 of October of 1947, gives to its voice an accent him different from many others.
Subjects like "Esteban", "Lupe", "Samaritan" and "Doña Anita" among others are but examples of that forgotten town that it wishes to give him to a position in his music and this served so that student youth took it into account; but it manages to cross that border and to acquire popularity with an incredible rapidity beyond. In his letters one noticed that it did not give space to simple things, because towards few concessions.
The Seventies were extraordinary in its race, because their discs and their music obtained an incredible acceptance by the so particular form whereupon towards mention to the injustices that were committed in the society as if the same one was living them and on equal way trasmitía which listened to their songs. That line of testimonial song knew it to take advantage of and to develop to the maximum, because in addition to quality it included comercialidad and this never formulates has failed. Patxi Andion also entered in the folclor and the lyricism and always maintaining a musical line with a pop base. In these years summit when publishing "If the Time" and in 1974 arrives at its work its album "As the Wind Of the North" serves to him to arrive much but far, because here it sings to Lorca.
In 1975 it participates in the cinema as actor and thus fortifies plus his work.
In 1978 after the married failure the LP follows their musical failure to him when publishing "Prohibited Song book" because it received many unfavorable critics by the subject "My Childhood", that arrived to be censured by many radio transmitters. This work was a stagnation in its sweeping race; but in 1980 it emphasizes by his performance in operates rock "Avoids". Here moved away of music it happens to work simultaneously in the cinema that finishes its studies of sociological sciences.
After the relative musical rest, in 1983 it appeared "Love First", where the change is appraised that as much he as the society had given and in 1986 another titled LP "the Open Balcony". Later it appeared a book of stories, giving samples of his ample artistic phantom.
Its true name is Francisco Jose Andion González, and their beginnings were not easy, because before acquiring the obtained fame, that places it between the interesting cantautores but of the 1968 generation, it made several works other people's to the art and it even lived in Paris where I make his first passages in the music, that not always it gave him to survive and from return to Madrid it did not pass it either well and after touching many doors it is that it obtains that one was opened, the one that knew to take advantage of to the maximum and although his popularity not this agreed one with the shown quality, for him, this no some represents obstacle, because it considers that his sincerity this over everything.
Downloads (RS)