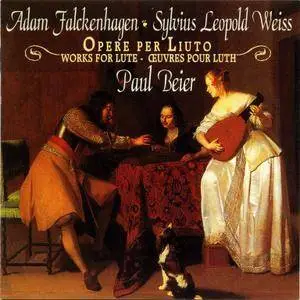 Adam Falckenhagen & Sylvius Leopold Weiss - Opere Per Liuto - Paul Beier (2014) {Magnatune Digital Download rec 1994}
FLAC (tracks) - 16bit/44kHz - Official Digital Download -> 287 Mb | MP3 @320 -> 158 Mb
Full Artwork (pdf+jpg) -> 10 Mb | 5% repair rar
© 2014 Magnatune
Classical / Baroque / Instrumental / Lute
It is a pleasure to see the rerelease of Paul Beier's first effort on the Baroque Lute, recorded in a small church in Switzerland nearly twenty years ago. He had originally planned a program that included the works presented here, plus the suite in E minor by Bach, but after editing we found that the total time of the recording was over 90 minutes, and so sacrificed the Bach suite to be able to release the CD (which can hold no more than 80 minutes worth of music).

Somewhere, in some now forgotten tape archive, lurks that E minor suite, completely edited but never released! (later re-recorded for an all Bach album.) One of the pieces for this program is the remarkable "Prelude nel quale sono contenuti tutti i Tuoni Musicali," which means "Prelude, which contains all of the Musical Keys." The title sounds a bit funny (it's in antique Italian), because the word "Tuoni" also means "thunder", so it sounds as if there will be lot of musical thunder here, and, in fact, this turns out to be quite true! The style of the music is very much in keeping with the latest musical currents of the 1740's, and you can hear that Falckenhagen's music has much in common with that of the most radical and innovative composer of the period, Carl Philipp Emanuel Bach, both in its propensity for cyclical and improvisatory forms and in the development of the Empfindsamer Stil.

Beier has paired this with a long, late work by Silvius Leopold Weiss found in the Glinka manuscript in Moscow. While this work is probably nearly contemporary with that of Falckenhagen, it is another world, musically. It comes at the end of the long, distinguished and prolific career of one of the finest lutenists who ever lived. And even though Weiss's musical style is rather old-fashioned compared with that of his pupil Falckenhagen, in this D major suite one can nevertheless detect that the old hand was not entirely immune to new ways of musical thinking, especially in the Courant and the final Minuet.

This album, when it was first released by Stradivarius, had many great reviews in CD magazines of the time, and it was even chosen as "Le Disque Du Mois" (January 1998) in the French magazine Rèpertoire, featuring on its cover. I hope it finds favor at its new home with Magnatune!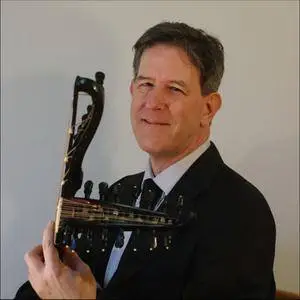 Magnatune INFOComposer
Adam Falckenhagen
(1697-1754)
Sylvius Leopold Weiss
(1686-1750)
Musicians
Paul Beier
- baroque lute
tracklist:
Adam Falckenhagen
1. Opere Per Liuto Preludio Nel Quale Sono Contenuti Tutti I Tuoni Musicali (25:15)
Sylvius Leopold Weiss
2. Opere Per Liuto Preludio (2:25)
3. Opere Per Liuto Partita In D Minor Vivace (Allemande) (7:14)
4. Opere Per Liuto Partita In D Minor Courente (6:02)
5. Opere Per Liuto Partita In D Minor Bourree (4:35)
6. Opere Per Liuto Partita In D Minor Andante (5:40)
7. Opere Per Liuto Partita In D Minor Presto (8:09)
8. Opere Per Liuto Partita In D Minor Minuetto (6:17)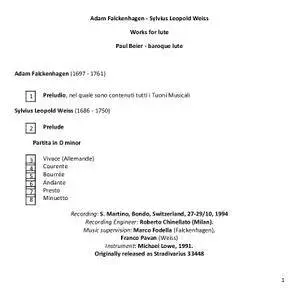 ===