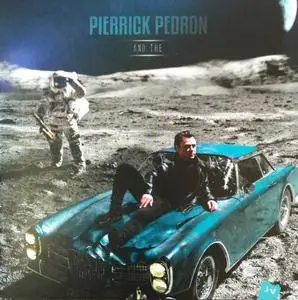 Pierrick Pedron - And The (2016)
MP3 320 kbps CBR | 44:33 min | 108 MB
Genre: Contemporary Jazz | Label: Jazz Village
Registered in Brussels and Paris, the new album by Pierrick Pedron is an amazing set of tracks between bop, funk, jazz rock, psychedelic pop and afro. A sculpted sound material in the rules of art (direct energy, jam sessions, emergence of themes, improvisations and constructions) with a few faithful accomplices, with the groove as a guideline. Central Figure of the best jazz made in France, the virtuoso saxophonist proves he's more than inventive composer: a sound innovator, catalyst music of his time.
For "Le Monde" he is a "master of the alto saxophone" – the Frenchman Pierrick Pédron. In his homeland he has long been one of the most respected and in-demand jazz musicians, where he has won the "Concours de la Defense" and other major prizes like the "Prix Django Reinhardt" or the "Prix Boris Vian". Pédron also works internationally with the well-known compatriots the likes of Baptiste Trotignon, Vincent Artaud and the Belmondo brothers, and with the US stars Wynton Marsalis, Mulgrew Miller and Lewis Nash. With strong roots in the spirit of bebop, he is a master of high-energy, breakneck straight-ahead modern jazz, while at the same time daring quite naturally to experiment with rock, fusion and electronic music – and yet always managing to sound entirely like himself.
Tracklist:
1. Monk Ponk Train 5:22
2. Clock Road 6:13
3. Val 2 5:21
4. Elise 5:05
5. Tootoota part 1 2:40
6. Procession 4:42
7. Val 1 6:22
8. PP Song Tree 4:43
9. Ethiop 4:11
Personnel:
Acoustic Guitar – Chris De Pauw, Jan Weissenfeldt
Alto Saxophone – Pierrick Pédron
Double Bass – Julien Herné, Tomi Simatupang
Drums – Bernd Oezsevim
Keyboards – Marja Burchard, Vincent Artaud
Percussion – Didac Ruiz
Trumpet – Damon Brown
Xylophone – Jérôme Fagnoul