Frederic Chopin (1810-1849) played by Maurizio Pollini - Chopin Nocturnes - 2 CDs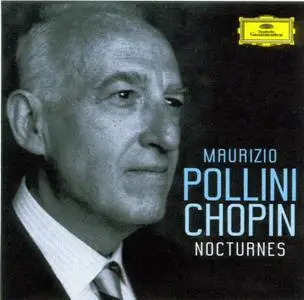 The Composer
Maurizio Pollini (born January 5, 1942) is an Italian classical pianist.

He was born in Milan, the son of the Italian rationalist architect Gino Pollini. Maurizio studied piano first with Carlo Lonati, until the age of 9, then with Carlo Vidusso, until he was 18. He received a diploma from the Milan Conservatory and won the International Frederick Chopin Piano Competition in Warsaw in 1960, after which he studied under Arturo Benedetti Michelangeli.

Since the mid-1960s, he has given recitals and appeared with major orchestras in Europe, the United States, and the Far East. He made his American debut in 1968 and his first tour of Japan in 1974.

Regarded as one of the greatest pianists of the day, he is especially noted for his performances of Chopin and modern composers such as Pierre Boulez. He displays an absolute technical sovereignty over the piano, but is sometimes criticized for his emotional conservatism. He has conducted both opera and orchestral music, sometimes leading the orchestra from the keyboard in concertos. With a sizable repertoire, he is currently one of Deutsche Grammophon's leading pianists and has performed the complete first book of Bach's Well-Tempered Clavier and several cycles of the complete Beethoven sonatas, among many other works.
Maurizio Pollini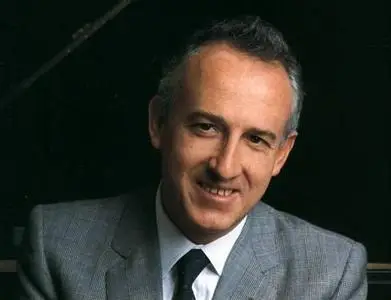 Amazon.com Customer's Review
The Nocturnes occupy a special place in Chopin's oeuvre. Their composition spans most of his creative career, with the first set, Op. 9, begun when the composer was still in his teens, and his last piece, the E minor, probably completed in his final year and published posthumously as Op. 72. More importantly, Chopin transformed the genre of the `night-piece' - conceived by the Irish pianist John Field mostly as gentle and lyrical - into a far more intimate and psychologically vivid experience.

Although each of Chopin's pieces develops in its own magnificent way, all seem to depict a nocturnal realm from which the glaring world of objects and affairs has withdrawn into shadow, laying bare the soul. Typically, one senses oneself in the midst of some sort of repose - a tranquil reflection, ethereal waltz, evening stroll or narcotic dreamscape - whereupon some powerful inner force comes to be aroused and must play itself out, tugging the heart back and forth between passion and placidity. The evening's calm is interrupted by many kinds of energies - erotic, religious, anguished, patriotic - but usually returns by the end, transfigured. It is almost as if Chopin has found a way to render his, and our, most private, inward conflicts in the soundworld of the piano, and apply to them the balm of his most healing resolutions.

Although the nocturnes are far from the most technically challenging of Chopin's works, their innermost truths have eluded all but the most masterful and fully realized of pianists. There are a handful of distinguished recordings of the set, some including two other posthumous nocturnes attributed to the composer, others not. Each of these sets - by Arrau, Moravec, and Rubinstein in the `30's, as well as Ashkenazy, Barenboim, Biret, and Pires - is impeccably felt and performed, if not perfectly recorded, and manages to capture much of Chopin's spirit. In particular, Ivan Moravec's group, performed on a plummy Bosendorfer, are uniquely expansive and magical.

That said, Maurizio Pollini's extraordinary new recording of the nocturnes is almost beyond words. Now 64, the Italian pianist's playing has arrived at a sublime convergence of technical command, wisdom, and open-heartedness, to a degree that I sense is unprecedented in the history of the instrument. Pollini's performances go so much deeper, reveal so much more than any of the others that, even after just two or three listenings, you may never be able to hear these pieces any other way. Alone among interpreters, Pollini plunges without the slightest digital or emotional hesitation into the often disorienting contrasts that Chopin has written into these pieces, recognizing that their psychological counterparts are just as intense and mercurial. At the same time, no other pianist is more tender (listen to Op. 62, #1, for example), humbly devotional (Op. 48, #3), or creates a more hypnotically dream-like atmosphere (Op. 27, #1).

As always, Pollini's sovereign qualities are abundantly evident: utter clarity, directness, lucidity, digital independence and evenness of attack. The DG tonmeisters have produced a superbly lifelike aural image of Pollini's majestic Hamburg Steinway (perhaps a little too lifelike - in a few cuts the pianist's breathing is distinctly audible). But by far the most compelling aspect of these performances is the intuitive way he captures their fantasy-like qualities. His emotional, intellectual and spiritual commitment is total, suggesting that the nocturnes' inner world can only emerge to the extent that the pianist has opened himself to us. One feels as if one is hearing them for the first time, and that within most of these miniatures is an epic journey into the unconscious and back.

Like Pollini's recent recordings of Schumann's Davidbundlertanze and the Diabelli Variations of Beethoven, this set is a treasure - the kind of marvel only possible in the hands and heart of a master at the peak of his powers. I cherish it!
Track list can be seen on this image: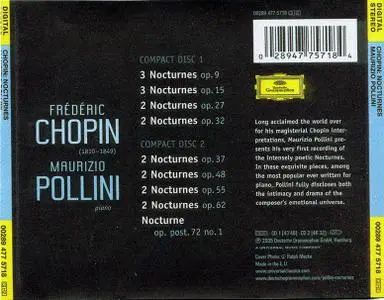 The album is split in 5x50 MB and 1x36 MB parts. Click
HERE
to get the archive with the download links. The password for everything is
www.AvaxHome.ru
. Files are on Rapidshare, and I don't want them mirrored for the time being.
Comments are welcome, here or by PM!