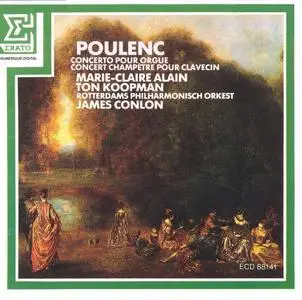 Francis Poulenc - Concerto pour Orgue - Concert Champêtre pour Clavecin
Marie-Claire Alain / Ton Koopman
Rotterdams Philharmonisch Orkest / Cond.: John Conlon
About the Composer
Francis Jean Marcel Poulenc (January 7, 1899 - January 30, 1963) was a French composer.

Poulenc was born in Paris. His mother, an amateur pianist, taught him to play, and music formed a part of family life. As a young man, in 1918 he was fulfilling his National Military Service but still managed to compose three miniatures. At one time, the best known of all Poulenc's music was the three Mouvements perpétuels of 1918, but his most successful work may be the opera Dialogues des Carmélites.

He was a Parisian by birth and always preferred the city to the country. However, in order to have the quiet solitude he needed to write music, he spent as much time as possible in Noizay, his home in the Loire Valley. This has led to the misconception that he preferred the country, but in fact he found rustic life boring and he hated walks.

He was called to military service twice, the first time beginning January 1918, during which Poulenc served a ten-day sentence in military prison for overstaying a leave in Paris. (Ivry 1996)

Poulenc was gay, openly so from his first serious relationship, that with painter Richard Chanlaire to whom he dedicated his Concert champêtre: "You have changed my life, you are the sunshine of my thirty years, a reason for living and working." (Ivry 1996) He also once said, "You know that I am as sincere in my faith, without any messianic screamings, as I am in my Parisian sexuality." (Aldrich 2004) However, Poulenc also had a number of relationships with women, and he also supposedly fathered a daughter, Marie-Ange, although he never formally admitted that he was indeed her father. He was also a friend to the singer Pierre Bernac for whom he wrote many songs and it has been suggested by many sources that this long friendship was a formal relationship. There is perhaps some truth to this, but the relationship was most likely not a sexual one.

Poulenc was profundly affected by the death of friends. First came the death of the young woman he had hoped to make his wife, Raymonde Linossier, the soul-mate of his early years. Then, in 1923 he was "unable to do anything" for two days after the death from typhoid fever of his twenty year old friend, novelist Raymond Radiguet. However, two weeks later he had moved on, joking to Diaghilev at the rehearsals he was unable to leave, about helping a dancer "warm up". (Ivry 1996) He was also profoundly affected by the death of painter Christian Bérard, who was decapitated in a car accident in the early 30's. This loss, coupled with a pilgrimage to the Black Madonna of Rocamadour, led him to rediscover his profound Catholic faith, which was to inspire him for the rest of his life.

Critic Claude Rostand, in a July 1950 Paris-Presse article, described Poulenc as "half bad boy, half monk" [le moine et le voyou], a tag that was to be attached to his name throughout his career. He was a bridge enthusiast, a dog lover, a hypochondriac, and suffered from low self esteem. At one point he was addicted to barbiturates. (Ivry 1996)

Francis Poulenc died of heart failure in Paris on January 30, 1963 and was interred in Cimetière Père Lachaise, Paris.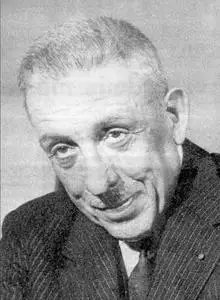 About the Music
The Concert champêtre is a harpsichord concerto by Francis Poulenc, which also exists in a version for piano solo with very slight changes in the solo part.

It was written in 1927-28 for the harpsichordist Wanda Landowska who said she "adored" playing it as it made her "insouciant and gay!" (Ivry 1996) Landowska was responsible for the composition of several other new pieces of music for the instrument, notably Manuel de Falla's harpsichord concerto and his El retablo de Maese Pedro (at the premiere of which, at the salon of Winnaretta Singer, Poulenc and Landowska met for the first time).

After a private performance in which Poulenc played the orchestral parts on the piano, the piece's public premiere was on May 3, 1929 at the Salle Pleyel in Paris, with Landowska playing the solo part and the Paris Symphony Orchestra conducted by Pierre Monteux. The work is scored for an orchestra of two flutes, piccolo, two oboes, cor anglais, two clarinets, two bassoons, four French horns, two trumpets, trombone, tuba, timpani, xylophone, side drums (with and without snares) tambourine, triangle, bass drum, cymbals and strings (the usual two sections of violins, violas, cellos and double basses–Poulenc stipulates eight each of first and second violins, and four each of violas, cellos and basses).

The piece is in three movements:

1. Allegro molto - Adagio - Allegro molto
2. Andante: Mouvement de Sicilienne
3. Finale: Presto très gai

The piece alludes to music of the Baroque period, when the harpsichord was a common instrument, both in terms of its melodic and harmonic language and in its structure: the last movement starts with a quotation from the Harmonious Blacksmith air and variations (final movement of harpsichord suite no.5 by Handel).

A typical performance of the Concert champêtre lasts around twenty-five minutes.

Like many harpsichord works from the 20th century, this piece was written for the revival harpsichord which was prevalent at the time, rather than historic instruments from the 17th and 18th century, which would need to be amplified to be heard in an orchestral setting.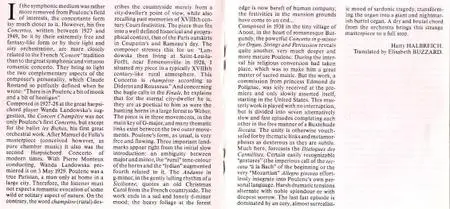 View the Tracklist: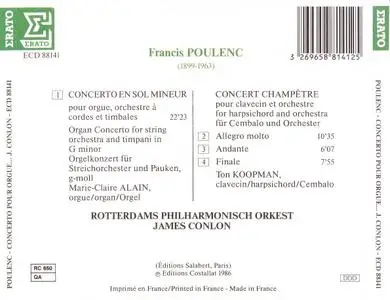 The album is split in 4x50 MB and 1x8 MB parts. Click
HERE
to get the archive with the download links. The password for everything is
www.AvaxHome.ru
. Files are on Rapidshare, and
I don't want them mirrored
for the time being.
Comments are welcome, here or by PM!