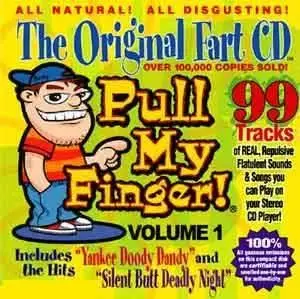 Pull My Finger - The Fart CD
MP3 | 44100Hz stereo 192Kbps | 42Mb
As heard on Howard Stern!!! Now you can own your own copy of this hilarious CD. 99 Tracks includes the songs Silent But Deadly Night and Yankee Doody Dandy. All farts are actual Farts… no fake or synthesized sounds were used. You'll be amazed at the sound quality.
The Pull My Finger Fart CD is the only flatulently funny collection of authentic fart sounds available on CD. All farts collected from actual gaseous emissions. No fake or synthesized sounds were used in this disgusting 30-minute compilation you can play on your home stereo. Use the Fart CD to thrill and gross-out your friends. Give the CD a spin for some really hilarious party games.
Here it is, the CD that started it all! Pull my Finger Volume One, over 100,000 sold! As seen (and heard!) on the Donny and Marie Show, Howard Stern, Entertainment Weekly and USA Today! 99 tracks, over 30 minutes of flatulent sounds and songs, including the hits "Yankee Doody Dandy" and "Silent but Deadly Night"! The perfect gift for that lovable dad or friend in your life!
About the Artist
Pull my finger, the fart CD, utilized 6 "Fartists"- 4 men and 2 female sphincters of varying shapes , sizes pitch and tone were utilized and digitally recorded for this funny CD.
DOWNLOAD: