Queen - News Of The World - MFSL (1993)
Lossless | MFSL | CloneCD Image | ~ 284 MB | Genre: Rock | 39 Minutes
(All covers and lyrics included. Scans at 300 ppi)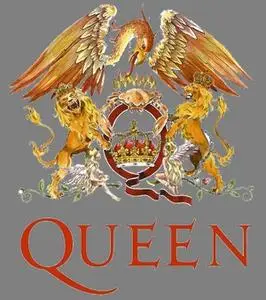 By 1977, Queen had perfected and succeeded at several different musical styles – heavy metal, glam, progressive, pop, ballads, and forays into genres not usually associated with hard rock (opera and gospel). By its next release, the band had progressed toward arena rock, and News of the World contained two of rock's best and most renowned all-time anthems, "We Will Rock You" and "We Are the Champions" (worldwide Top Ten hits). Punk rock was in full force by 1977, and Queen were among the elite bands being criticized by the punks. Instead of ignoring it, the band issued its answer to punk with the amphetamine-fueled "Sheer Heart Attack." News of the World bears some resemblance to 1974's Queen II due to its darkness – the tracks "All Dead, All Dead," "Spread Your Wings," and "My Melancholy Blues" smack the listener with cold, hard reality. But not all of the tracks are so serious, such as the fun salsa sounds of "Who Needs You," the epic Zep rock of "It's Late," the groovy blues jam "Sleeping on the Sidewalk," the tasty funk of "Fight From the Inside," and the robotic, overtly sexual "Get Down, Make Love" (later covered by Nine Inch Nails). Their third blockbuster release in a row, News of the World solidified Queen's status as global stadium headliners.
Trivia: Many people don't know that Freddie Mercury was also a talented artist. He received his Diploma in Art and Graphic Design at Ealing Art College, England and later used these skills in order to design the famous Queen crest. The artwork for Queen's "News of the World" is based on an illustration by Kelly Freas – one of the most prolific, best known, and best-loved American Science Fiction artists in the second half of the twentieth century.
Freddie Mercury was considered one of the most versatile male vocalists in popular music. He possessed a very distinctive voice. Although his speaking voice naturally fell in the baritone range, he also maintained tone in the tenor range. His recorded vocal range spanned nearly four octaves (falsetto included), with his lowest recorded note being the F2 and his highest recorded note being the D6. His highest recorded head voice note was the F5. In addition to vocal range, Mercury often delivered technically difficult songs in a forceful and powerful manner. However, due in part to the fact that he suffered from vocal nodules (for which he declined surgery), he would often lower the highest notes during many concerts. With his vocal versatility, Freddie Mercury was one of the most technically accomplished singers to work in the pop idiom. In a list of the greatest English language singers of the 20th century compiled by BBC Radio, Mercury was ranked #10. (Wikipedia)
Enjoy, my Friends!
Song List:
1. We Will Rock You (2:02)
2. We Are The Champions (3:00)
3. Sheer Heart Attack (3:25)
4. All Dead, All Dead (3:09)
5. Spread Your Wings (4:34)
6. Fight From The Inside (3:02)
7. Get Down, Make Love (3:51)
8. Sleeping On The Sidewalk (3:06)
9. Who Needs You (3:05)
10. It's Late (6:26)
11. My Melancholy Blues (3:34)
Rapidshare:
http://rapidshare.de/files/218..._-_News_of_the_World.part1.rar
95.37MB
http://rapidshare.de/files/219..._-_News_of_the_World.part2.rar
95.37MB
http://rapidshare.de/files/219...-_News_of_the_World.part3.rar
92.70MB
http://rapidshare.de/files/22327185/Queen-News_Of_The_World_Covers.rar
21.11MB
Sample Listening -
http://tinyurl.com/okzu2
Links to my other MFSL posts:
U2 - War
http://avaxhome.ws/music/u2_war_mfsl.html
XTC - Skylarking
http://www.avaxhome.ws/music/xtc_skylarking_mfsl.html
Joe Jackson - Night And Day
http://www.avaxhome.ws/music/joe_jackson_night_and_day_mfsl.html