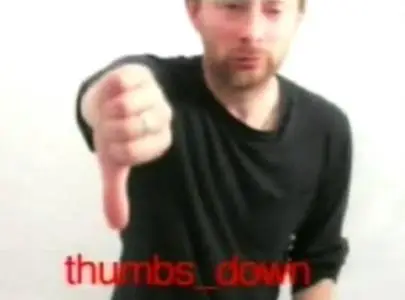 Radiohead - Thumbs_Down (webcast 2007)
MP3 | CBR 320 Kbps | 70 MB
158 minutes | 3ivx D4 4.5.1 | 320 x 240 | AAC, Stereo (L R), 44.100 kHz | 542.3 MB
Webcast 2007.11.09 | Genre: Alternative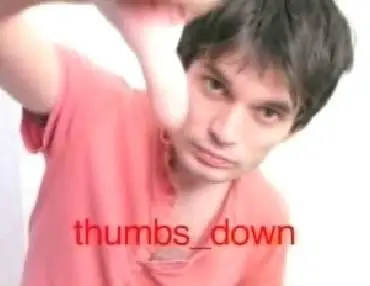 Radiohead - Thumbs_Down [audio only]
Webcast 2007.11.09
MP3 | CBR 320 Kbps | 70 MB | Language: English
The webcast, entitled 'Thumbs_Down" started off with the band doing a
live version 'Bodysnatchers'. Adam Buxton 'introduced' the band and Nigel
Godrich when coming out of the studio. Followed by a clip from the film
'Seven' where the actors opened a box which contained Thom Yorke's head
singing '15 Step'.

Up next was recording of Thom Yorke and Jonny Greenwood playing 'Faust
Arp' outside and then the camera was switched back to the studio for a
live performance of the band doing a cover of The Smith's 'The Headmaster
Ritual' Later on Ed O'Brien was back at DJ decks spinning (and dancing
to!) Asian Dub Foundation, Kings of Leon and Kenny Rogers.

Thom said: "This is Thumbs Down cause it's … [holds thumbs down]… We're
gonna play some music as we can still stand up. This our way of celebration
the fact that way have finished a record. We're been doing some stupid
stuff the past few weeks knocking some things together. Don't expect any
high quality cause there isn't any."

Next up was a pre-recorded video of Radiohead performing 'Jigsaw Falling
Into Place' in the studio with each member wearing helmets with cameras
on them. Then another live performance of 'Reckoner' followed.

Colin and Jonny Greenwood continued with a short DJ set. Followed by
another cover song performed by the band: 'Ceremony' from Joy Division/
New Order. After a DJ set from Phil Selway Thom announced the rebroadcast
of their earlier recorded cover of Bjork's 'Unravel'

p l a y l i s t

01 Bodysnatchers 05:04
02 Faust Arp 02:42
03 Headmaster Ritual (The Smiths) 04:53
04 Reckoner 05:42
05 Untitled 01:03
06 Ceremony (New Order) 04:26
07 Unravel (Bjork) 03:54
08 I Might Be Wrong 06:56
======================================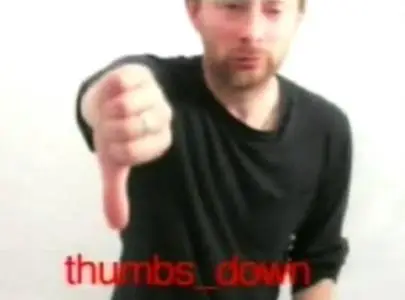 Radiohead - Thumbs_Down
FULL Webcast 2007.11.09
158 minutes | 542.3 MB
3ivx D4 4.5.1 | 320 x 240 | AAC, Stereo (L R), 44.100 kHz
Language: English
2007-11-09
Thumbs_Down Webcast
Oxford Studio-Thumbs Down Palace
Oxford UK

Bodysnatchers
Thom DJ Set
15 Step Vs Se7en
Faust Arp
The Headmaster Ritual (The Smiths)
Ed DJ Set
Reckoner
Jonny DJ Set
Colin DJ Set
Ed Poetry Recital
Ceremony (New Order)
Phil DJ Set
Unravel(Bjork)- MONO
Colin DJ Song
I Might Be Wrong
Chiefton Mews
Videotape

List of songs they played in their DJ sets:

Burial: "Near Dark"
M.I.A.: "Pull Up the People"
Tomas Anderson: "Happy Happy"
!!!: "Heart of Hearts"
Kings of Leon: "My Party"
Asian Dub Foundation: "Model Apprentice"
Jorge Ben: "Take It Easy My Brother Charlie"
Les Baxter: "The Ancient Galleon"
The First Edition: "Just Dropped in (To See What Condition My Condition Was in)"
Iggy Pop: "Nightclubbin'"
Squarepusher: "My Red Hot Car"
Bauhaus: "Bella Lugosi's Dead"
Iron and Wine: "Pagan Angel and a Borrowed Car"
Captain Beefheat: "Sun Zoom Spark"
Bonnie Prince Billy: "Lessons From What's Poor"
Asian Dub Foundation: "Naxalite"
Ray Charles: "It Should've Been Me"
Juana Molina: "Micael"
Fela Kuti & the Africa 70: "Alu Jon Jonki Jon"