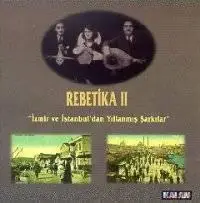 Rebetika 2 (ρεμπέτικα 2) - Old Songs From Istanbul and Izmir
Ethnic Music | MP3 | 192 Kbps | 86 Mb | 20 Tracks
All of these songs were recorded in 1920's and 1930's
After the Greek occupation in western Turkey (1919-1922), Turkish troops won the glory with the leadership of Kemal ATATÜRK in 1922. 1922 was the year of the Asia Minor Disaster (for Greek people), which was followed by population exhanges in accordance with the Treaty of Lausanne. Many Anatolian Greeks were settled in the larger cites of Greece, bringing with them their traditional music. (The exchange took place between Turkish nationals of the Greek Orthodox religion established in Turkish territory, and of Greek nationals of the Muslim religion established in Greek territory).
In 1923 there were 1,5 million refugees in the country. These were Greeks who had never lived in Greece. They had come from the fertile lands of Anatolia but were now forced to live in a small mountainous country that could not support them, or in refugee settlements in Pireaus (Pire) and Thessaloniki (Selanik). It was in the cafes and hash dens near these settlements that what we know as Rebetika was forged from the early mainland movement with its bouzouki and the oriental tunes, rythms and singing techniques that came from Anatolia.
Anatolian Greek music uses the clarinet, violin, bouzouki, lauta, tsura, and santouri. Turkish influence adds the use of uti (oud), saz, cumbus, and kanun. Significant in Anatolia the use of the 9/8 or 9/4 time signatures. Zebekiko (Zeybek) is the soul rhythm of Izmir. Other rythms and dances include Tsiftetelli (Çiftetelli), Hasapiko (Kasap Havası), Hasaposerviko and Karsilama (antikristos).
From the admixture of the music of Anatolia with elements from Greece proper, the rebetic style came into being. In this period, the themes of the rebetika revolved mainly around love songs and songs with references to illicit activities (such as narcotics). The influences of the music of Izmir were profound, given their unrivalled pathos, and at certain times it is difficult to distinguish the rebetic song from the Izmirian.
İzmir Songs/İzmir Şarkıları
1- To ferece/Ferace-Rita Abacı
2- Bournovalia/Bornovalı-Elen Estudiantino Orkestrası
3- Boharis-Marika Papagika
4- Mangiko/Manga Şarkısı-G.Vidalis
5- To prosfiğaki/Zavallı Mülteci-Markos Melkon
6- Elenaki/Elenicik-Ogdontakis
7- Trava Spango/Çek Arabanı-D.Semsis
8- Nea Hira/Genç Dul-Dimitris Atroidis
9- Smirneiko Minore/İzmir Minörü-Kostas Nuros
10- Manes tis avğis/Şafak Vaktinin Gazeli-Antonis Dalgas
11- Ferte preza na prezaro/Getirin Bir Tutam Çekeyim-Rita Abacı
12- Anadolu Engini-Theodoros Demircioğlu
13- Tha spaso kupes/Kadehleri Kıracağım-K.Kapiris
14- I bira tu Pikinu/Pikinos'un Birası-K.Rukunas
15- Sti taverna me tin laterna/Laternayla Tavernada-Roza Eskenazi
İstanbul Songs/İstanbul Şarkıları
16- Politikos Hasapikos/İstanbul Kasap Havası
17- Ithela nartho to vradhi/Geceleyin Gelmek İstiyordum-Markos Melkon
18- Aya Sofya-Marika Papagika
19- Arabas Perna/Araba Geçiyor-T.Nikolaou
20- Khasapikos ap'ta Tatavla/Kurtuluş'tan Kasap Havası