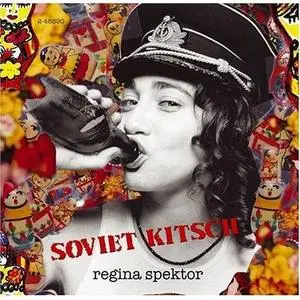 Regina Spektor: Russian Kitsch (2004)
Rapidshare | MP3 192 kbps | 52MB | Year: 2004 | Genre: Folk
When five-year-old Regina Spektor moved to the States after being born and raised in Russia, there was no possible way for her or anyone that knew her to know what an underground sensation she would be. Her voice is surreal and packed with emotion, taking me to a completely different world when accompanied by her piano playing, which rivals the likes of fan favorite Tori Amos and the superb low-key Amanda Palmer (of the Dresden Dolls), if not surpassing. She has the ability to craft that catchy hook in every song (sometimes two or three) that keeps you rewinding, repeating and listening until your ears throb with the passion she invokes in her music.
SOVIET KITSCH, her first album on a record label, sees her taking the tried and true methods seen on 11:11 and SONGS and reproducing them here with the occasional twist - "Your Honor"'s punk-rockish feel as she drawls, "I kissed your lips and I tasted blood / I asked you what happened and you said there'd been a fight" as opposed to her normally mellow, introspective lyrics, like in the magnificent "Ode to Divorce" ("I need your money / It'll help me, I need your car and I need your love / So won't you help a brother out?").
Track listing
1. Ode to Divorce
2. Poor Little Rich Boy
3. Carbon Monoxide
4. Flowers
5. Us
6. Sailor Song
7. ***
8. Your Honor
9. Ghost of Corporate Future
10. Chemo Limo
11. Somedays
Not sure? Try her out!
http://rapidshare.de/files/24811024/Regina_Spektor_-_Fidelity.mp3
You are welcome to download From OxyShare:
http://www.oxyshare.com/get/52...na_Spektor_-_Fidelity.mp3.html
Download full album
http://rapidshare.de/files/24844675/addheat.audiobuff.Regina.Spektor.Soviet.Kitsch.rar
You are welcome to download From OxyShare:
http://www.oxyshare.com/get/24...Spektor.Soviet.Kitsch.rar.html